Combined the two machines in one (one machine has two function and parts, one part sleeve bottle body and the other part sleeve bottle cap), and they sleeve Synchronized.
VK-D250 reduce the electrical equipment, conveyor system and so on, thereby reduced the cost.
This machine adopts high technology, and has good design, work synchronized, and sleeve very exact.
It's easy and convenient for people to operate, and this machine only need one person work on it.
This machine used program control, so it's very professional.
The machine material is stainless steel.
This automatic sleeve labeling machine adopt PLC control, positioning module, servo motor and frequency converter. In addition, its touch screen is featured with a humanized operation.
With the accurate casting label, the equipment applies to the casting label and sealing of bottles with various shapes and hexagonal oil drum, Suitable for larger bottle-type. for example, 3-5 liters barrel containers. The products are very popular in the domestic and overseas markets.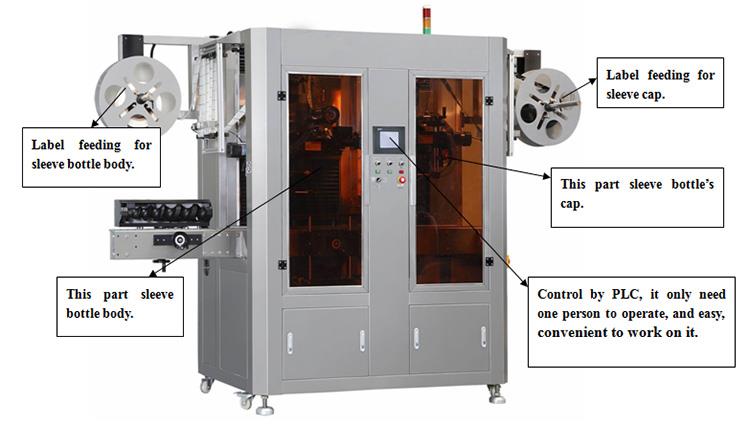 Technical parameter
| | |
| --- | --- |
| Main engine size (length*width*height) | 2000L x 950W x 2000H(mm) |
| Main engine production speed | 10-400BPM |
| Main engine power supply | AC 3phase220v/380v |
| Bottle/Can Flat Width | 48 -185mm |
| Bottle/can materials | Glass,metal,plastic |
| Label length | 25mm -280mm |
| Label thickness | 0.03mm -0.13mm |
| Label material | PVC.PET.OPS |
| Bottle/can height | 15mm -320mm |
| Bottle/can diameter | 30.5mm -120mm |
| Bottle/can shape | round,square,oval,rectangular |
| Main engine weight | 500kg |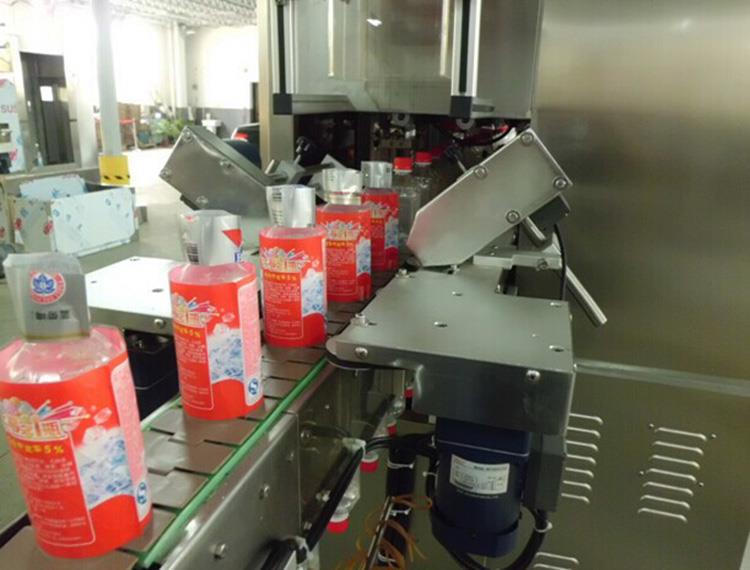 Technical Features and application :
1. Automatic sleeve labeling machine have two sets of standard mechanism, one is used to label the bottle body, another label for bottle mouth.
2. Raw material are made of stainless steel SUS304, simple structure, beautiful appearance, easy to clean, the water does not rust.
3. To ensure accurate positioning sleeve labeling. The use of modular design, mold the chopstick control, precision, high-speed sleeve.
4. High-quality touch screen operation section, implementation of operating, convenient, fast. only one person is needed to operate, easy to maintain. The Panasonic servo system, servo control system to ensure high speed, sets of standard error free.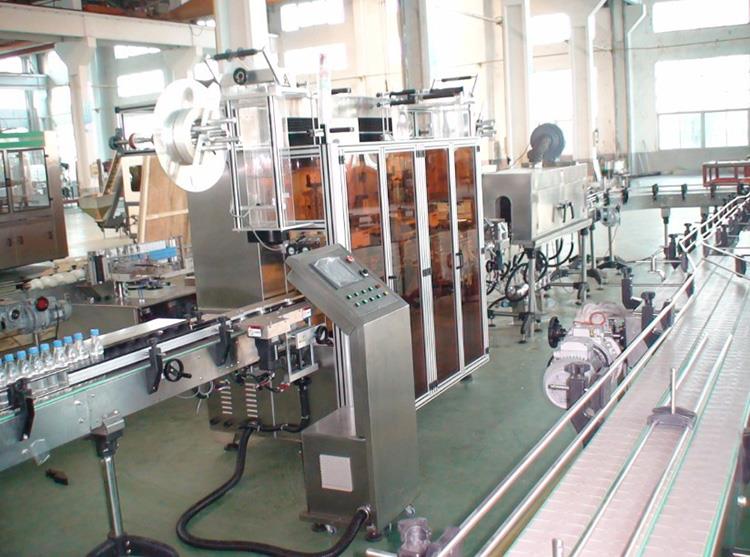 Advantages
1. Advanced technology: Japan-made motor controls synchronous cutting system to ensure long use life of cutting tool and high precision label.
2. Highly effective production speed: 400-bottles/per minute (standard bottle) It can work with the production line or just work alone.
3. Label-controlling sensor shelf
4. Elastic choice: The machine head can be leaned to fit round bottle, square bottle, elliptic bottle, top of bottle and body of bottle. The latest double material-providing system is applied to change material alternately with less time.
5. A unique synchronous cutting base: The cutting base doesn't need changing within the range of specification. If the specification needs changing, it can be done within five minutes.
6. Simple and safe operation: A colored people-controlling operation is used with both English and Chinese versions on it.
7. Low-consumption maintenance cost: low-cost abandoned blade for easy change.
8. Long use life of cutting tools: steel-connecting transmission mechanism, reciprocating cutting and prolonged use life.