This round bottle labeling machine is commonly utilized to label cylindrical bottles that are mainly used for several types of beverages, chemicals, pharmaceuticals, etc. It has a robust and compact structure which is easy to operate and also simple to maintain for the users. The sturdy and durable motor of this model is controlled by the latest micro processor. It can also rapidly and accurate drive the labeling head, as well as the controller to convey the labels.
Moreover it also incorporates the popular controlling system of Siemens Plc; and the simple human interface can be operated in English as well as Chinese language. Further, you need not change the machine parts for different size of bottles, as it has a multi-purpose detachable set. It even has the most modern online helping system, which enables the users to actually communicate with the equipment. This new system is very user friendly and the workers can just use simple wordings in order to operate the machine. Besides this equipment can run smoothly and constantly for several hours.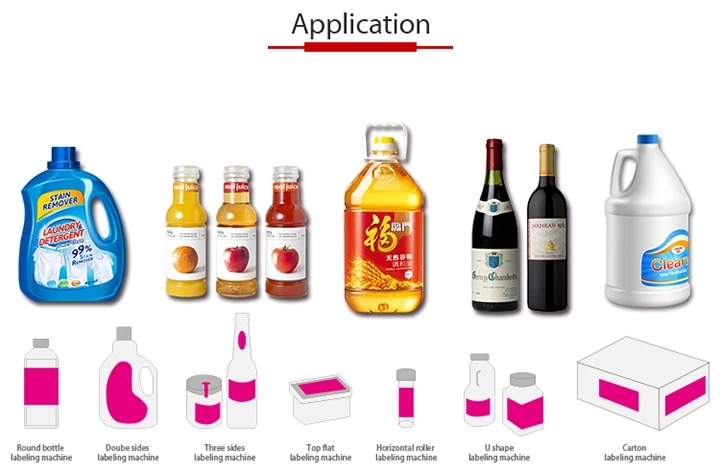 It has a labeling speed of up to 120 bottles in a single minute, and a very highly labeling accuracy. Whereas the maximum label width is 140 mm, and can also be increased if required. Moreover, this versatile and elegant model of round bottle labeling machine has the capability to label bottles with a diameter ranging from 30 to 110 mm. Further, the equipment has a label roll with an inner diameter of around 75 mm, while the label roll outer diameter is around 350 mm. It also has a fiber optic based sensing system for labels and containers. This machine is highly suitable for applying labels on round shaped bottles made from various kinds of materials such as glass, plastic, HDPE, LDPE, PET, etc.
Brief Introduction
1.1 Heavy-duty construction utilizes oversized drive components combined with an aluminum and stainless steel base frame for years of dependable service.
1.2 Various product infeed systems are available that provide precise product spacing and orientation. It can be used stand alone or integrated in-line and matching filling equipment speeds.
1.3 Advanced high torque micro-stepping driven applicators include ratio-offset and speed-following capability for accurate and reliable application of a wide variety of label materials.
1.4 Designed for the application of front and/or back panel labels with the capability to label containers that are round, square, oval or rectangular.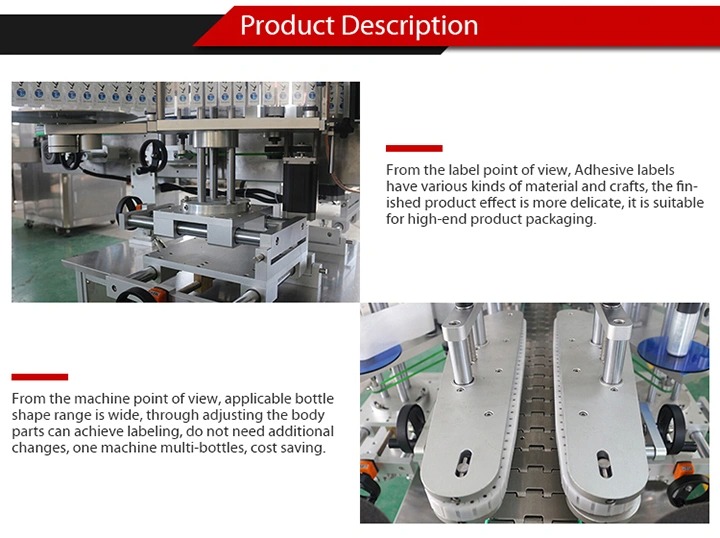 Technical Parameter
| | | |
| --- | --- | --- |
| No | Item | Parameter data |
| 2 | Dimension | L 2100mm * W 900mm * H 1500mm |
| 3 | Voltage | 220V/50Hz |
| 4 | Power | 1200 W |
| 5 | Production Capacity | 0-40m/min |
| 7 | Label Roll Core | 76 mm |
| 8 | Label Roll Diameter | 350 mm |
| 9 | Label Width | 10~110 mm (special size can be customized) |
| 10 | Label Length | 20~360 mm (special size can be customized) |
| 11 | Bottle Diameter | 30~90 mm (special size can be customized) |
| 12 | Bottle Height | 30~200 mm (special size can be customized) |