Product Description
This newest labeling machine features many advantages, it has a small footprint, lightweight design, perfectly suitable to use in a small space.
Full automatic processing provided by PLC control and fast labelling speed to save your precious time, it's the best choice for automatic labelling in a such small form factor.
Additionally, it can attach to bottle organizing machine to add bottle feeding and retracting functions.
Bottle labelers enable the user to label all kinds of cylindrical objects.
High accuracy and high speed, dispensing & labeling automatically.
The complete operation is PLC based.
Can be widely used in various vertical round bottles. Suitable for small production.
Label head stepper motor
Emergency safety Off button bottle labelers enable the user to label all kinds of cylindrical objects.
High accuracy and high apeed,dispensing & labeling automatically.
Main features
Lightweight & Humanized Design
Small enough to sit on a desk comparing to the normal automatic labelling machine which is giant and uneasy to move around.
Automatic Photoelectric Sensor
Smart control for labelling and bottle detecting, it has automatic label calibration and detection to avoid any waste of labels.
Automatic Bottle Feeding
Separates bottles automatically to improve stability by eliminating the small size difference between each bottles.
Stainless Steel And Aluminium Alloy Body
Elegant appearance, non-deformation, high quality 304SS material that meets GMP standard, providing the best using experience.
Best Imported Component
Carefully picking the best component to build the machine, ensures high quality and long service life.
Automatic Batch Process
Easy to operate and maintain, lowering labor cost and improving efficiency.
Multiple Functions
Automatic counting and stopping to save electricity, automatic save settings, etc.
Touch Screen Control
Easy to control and switch different settings, it features a user interface with guides.
High Labelling Stability
Labelling is straight and flat, no bubbles or creases.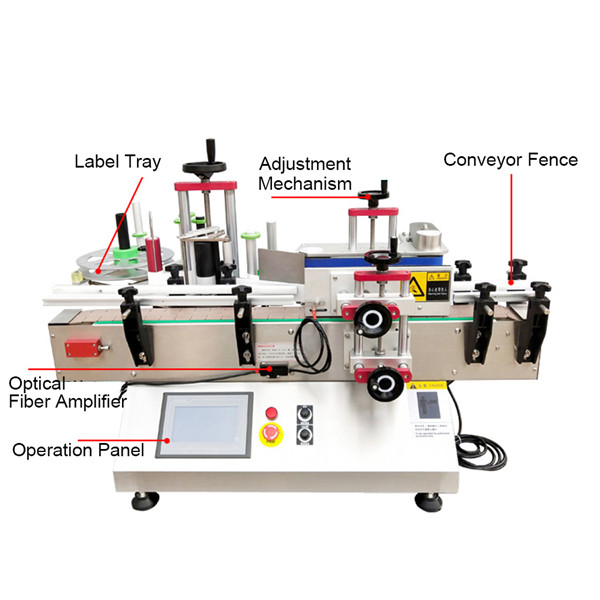 Main parameter
| | |
| --- | --- |
| Accuracy | ±1mm |
| Speed | 50-200pcs/min |
| Label Height | 15-150mm |
| Label Length | 25-300mm |
| Bottle height |  25-300mm |
| Accruracy | ± 1mm (according to the bottle) |
| Label Roll | 75---350mm |
| Power | AC110V/220V 50/60HZ   1000W |
| Dimension | 1270X1000X780mm |