This stretch sleeve labeling machine adopt LCD touch screen control the whole process:bottle carrying, bottle separation, material carrying, clean down, label cutting, label sleeve and shrink. The operation is very convenient. in order to increase the efficiency and based on the mechanical structure, circuit design, intelligent control, use electrical appliance control system, which is important to label sleeve machine for beverage, we have developed advanced electrical appliance.
material feeding buffer unit is designed to control the label, buffer the label feeding process and avoid curved label and label obstruction. Label cutting place is controlled by photo electricity and human machine in order to check the label cutting place and enable the cutting more accurate. In order to balance the inertial forces to make the label casting more precisely and stably in the label feeding process, adopt Auto tension device of label feeding unit, in order to avoid unsteady, low speed and label obstruction in the feeding process of hot shrinking label sleeve and make the process fluent and feeding label swiftly, our company new developed Double drive unit, this KML-350 This stretch sleeve labeling machine can reach 350bottles/minute speed, more faster than common machine.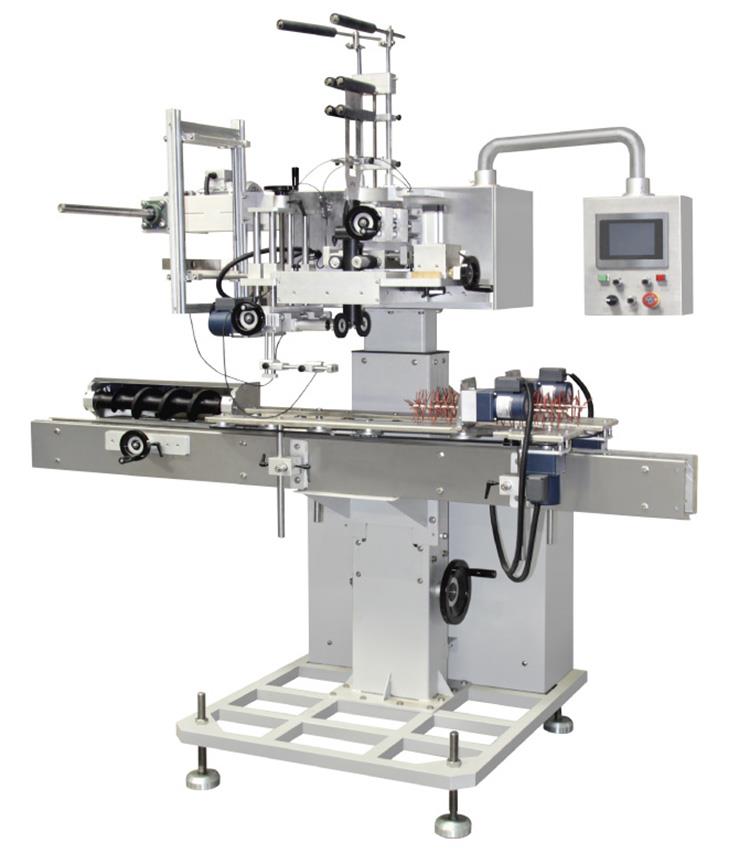 Technical parameter
Capacity
20000BPH(Label height≤100 mm)
20000BPH(label length≤100 mm)
18000BPH(Label height≤250 mm)
18000BPH(label length≤100 mm)
Percent of pass
≥99.9%
Whole line productive efficiency
≥95%
According to 24 hours
Applicable diameter of bottle
Æ28mm ~Æ 125mm
Applicable length of label
30mm ~250mm
Applicable thickness of label
0.027mm ~0.13mm
Label material
PVC、PET、OPS
Internal diameter of paper tube
≥4"(101.6mm)
Outside diameter of paper tube
≤500mm
Voltage
AC380V,50/60HZ,3phase
Input power of label sleeve machine
6KW
Input power of shrinking tunnel
1.5KW
Pressure of steam source
1-8Kg/cm2
Consumption of steam
<50Kg/hour
Outside dimension
Sleeve label main machine:L2100*W1100*H2000
Shrinking tunnel:L2300mm*W500mm*H1500mm
Total weight
1000 kg
Technical Features and application :
1. This stretch sleeve labeling machine adopt Synchronized transmission and drive by gear with one belt. The change of transmission belt will be finished quickly. Compared to the type of traditional multilayer whose change and maintain need more than six hours, its maintenance is easy and maintain is simple, so it doesn't influence production.
2. Cutter head original transducer is inside the cutter head and when you take down cutter head, no need to correct the synchronous belt. It also has unique light touch human-machine screen, that means, auto search original location as well as safety and convenience which is ahead of other congener products. The new design of cutter adopt step motor with high speed, stable and exact movement, trim cut place and perfect shrink. Compatible with the label synchronous location structure, the error of cutting place is within 1mm.
3. Adopts rotary potentiometer which enable the label feeding stable and fluent and avoid the error label length, label block and other problem when label feeding servo convey the label.
4. Inhibiting device on the screw mandrel effectively control the fault operations and ensures the safety of the center pillar.
5. Adopted with mechanical transmission to drive the positioning belt on both sides. While changing the whole bottle carrying unit, the down and up, width are all controlled by one hand wheel aiming to synchronously and swiftly adjust.
6. Adopt motor to up and down which enable the operation more convenient.
7. New hot air shrinking tunnel: It adopts high pressure blower machine. Special designed hot air circle tunnel saves more energy and make the shrink bottle more beautiful. Compare with the traditional shrinking tunnel, this kind of tunnel can do better for curved bottle.( optional).
Advantages
1. The company's sleeve labeling machine is suitable for all kinds of bottles of fruit juice, tea drinks, dairy products, pure water, condiments, beer, sports drinks and other food and beverage industry, not only has a highly precise position and contraction more prominent bottle perfect bottle.
2. The high stability of the mechanical structure, the whole machine made of stainless steel and aluminum alloy frame cover protective rigid frame, solid rust.
3. High-quality positioning accuracy, all mechanical transmission design, the use of forced sleeve labels.
4. Low maintenance cost of consumables, low cost of discarding this machine blade, easy to replace, the cost burden is low.
5. Reliable service, the aircraft has a variety of spare parts warehouse, ready to provide, as well as experienced engineers provide you with technical support.
6. Sleek appearance, the overall framework of strong, more lightweight and flexible use.
7. The new industry-leading design, quality is more solid and excellence, by no means able to compare the existing domestic products.
8. The machine is simple and elegant structural components, ensures low failure rate, easy maintenance.
9. A full range of security principal security box, in fact, thoughtful design.
10. Synchronous bottles, delivery and stable;
11. Adjustable cutter, cutting maneuver, tool life doubled.
12. The man-machine interface, operating more humane;