Customized labeling machine automatic vertical labeller machinery with bottles feeding table for bottles with transpare labels. In order to solve the requirements from customers for not labeling the joint line in the red wine bottles we specially install another sensor beside the conveyor belt to sense the bottom of bottles; to solve the transparent labels we finally adopt the universal sensor which can sensor optical any labels either opaque or transparent;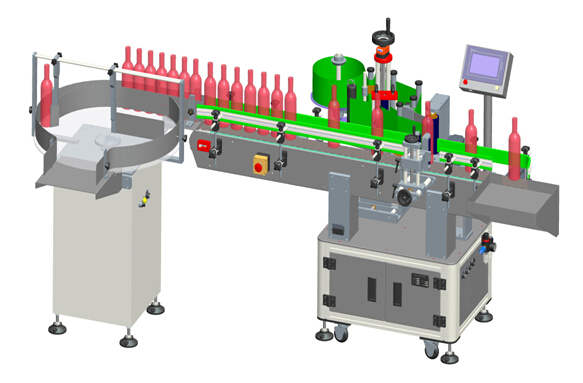 Vertical red wine labeling machines automatic with round turntable bottles feeding system transparent labels labeller machinery
* Transparent labels labeling machinery customized to avoid covering joint line during labeling process for glass&plastic bottles
* Stick to mark accuracy: ±1 mm;(do not contain a product, label error margin)
* Stick to mark speed: Is 20~60|minute;(have relation with product label size)
* Apply product size:¢ 30 the ≤ product diameter ≤¢ 100 mms;
* Apply label size: 15 ≤ width ≤ 110 mmses, length ≥ 20 mms;
* The whole machine size: 1800 ×s 900 ×s 1300 mmses;(long × breadth × Height)
* Apply the power: 220 Vs 50|60 Hzs;
* Air pressure: 0.2~0.5 Mpas;
* The whole machine weight: 295 kgs.
Here is the Machines final products ready for shipping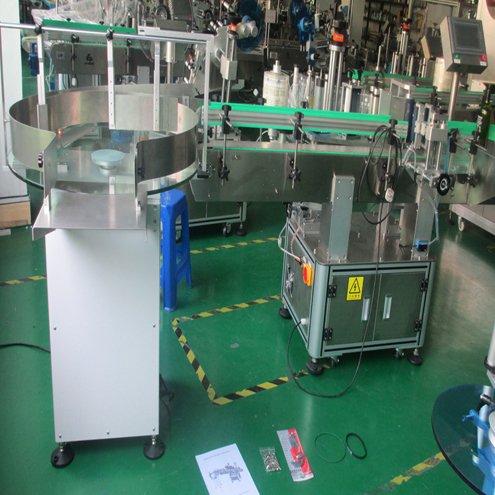 ►basic use of labeling machine automatic vertical labeller machinery with bottles feeding table
The whole weekses that can used for various cylinder form product half week, just the back double mark sticks a mark, such as sticking of food can, cosmetics circle bottle, and medicine bottle...etc. mark;Take a dozen of code machines such as the another nuance, can carry out to stick a mark to print to produce informations like batch number,etc at the same time.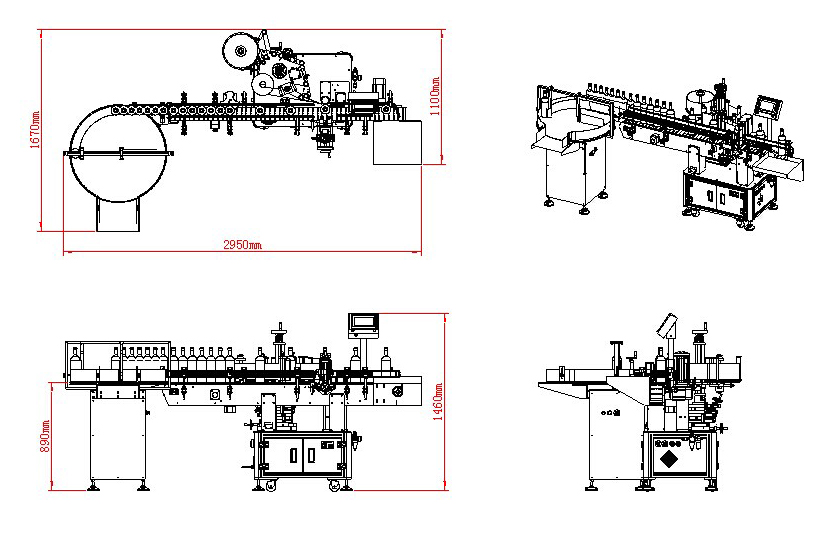 ►applicable scope:
*Apply label: The not dry gum label doesn't do a gum film, the electronics takes charge of code, the form code wait;
*Apply a product: The product that requests to stick to attach label or film on the circumference noodles, conic surface;
*Applied profession: Extensively Be applied to a food, medicine, cosmetics and day to turn, electronics, hardware, plastics etc. profession;
*Is applied solid example: The PET circle bottle sticks a mark, the plastics bottle sticks a mark, food can etc.
Feeding tables basic data as below:
Applicable specifications: 20-1000 ml
bottle diameter: φ 10-phi 80 mm
the bottle height: 85-300 mm
production capacity: 0-100 BPM (speed adjustable)
voltage: 220 v50hz
power: 0.5 kw
weight: 70 KG
shape size: 1100 * 1000 * 1300 mm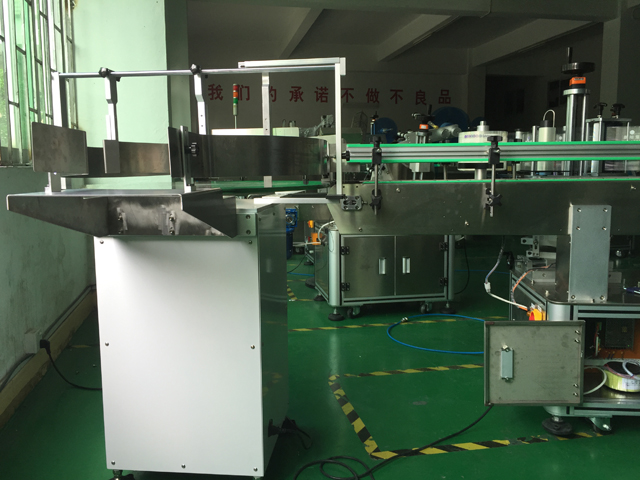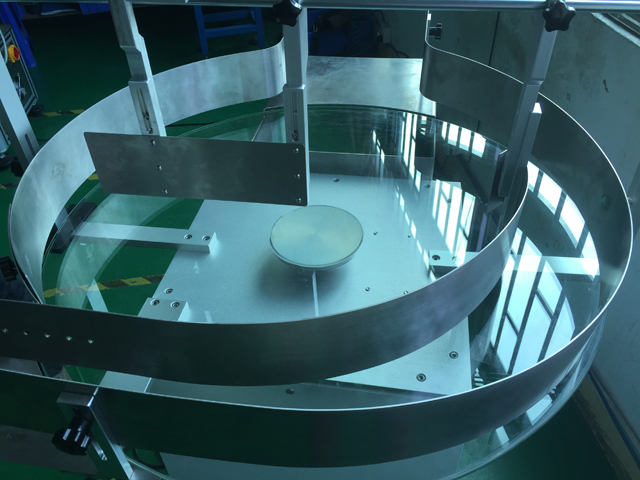 Working process from A to Z for labeling machinery
Put wine bottle →the bottle boxs off→The bottle examines→The air cylinder positions→ Stick a mark and reply a mark →The label examines→The air cylinder resets→The product sends out→Circulate with this
1, The bottle gets into belt conveyer from the left side;
2, The cent bottle organization reduces transporting of slow work piece speed and lets the of work piece draw back a distance, for sticking of follow-up mark assurance time;
3, The work piece gets into examination district and examines a work piece and stretches out to suppress a work piece while positioning cylinder to postpone;
4, After positioning a work piece, time after enactment, lead electrical engineering to turn to send out label, revolve to reply a mark at the same time;
5, After sticking good label, position air cylinder to send back, the work piece leaves to stick to mark position with the belt conveyer;
6, The top end divides a bottle of organization to put a bottle-
According to up circulate to stick a mark in a row
Customized structure for no covering on the joint line during labeling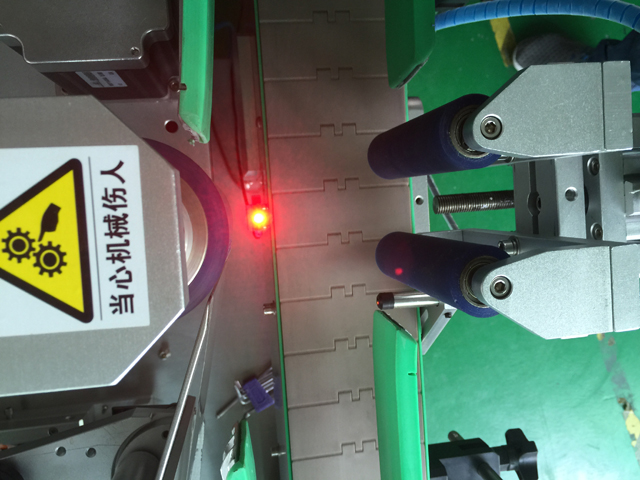 Universial sensor LEUZE brand for sensoring the transparent labels wrapping on the red wines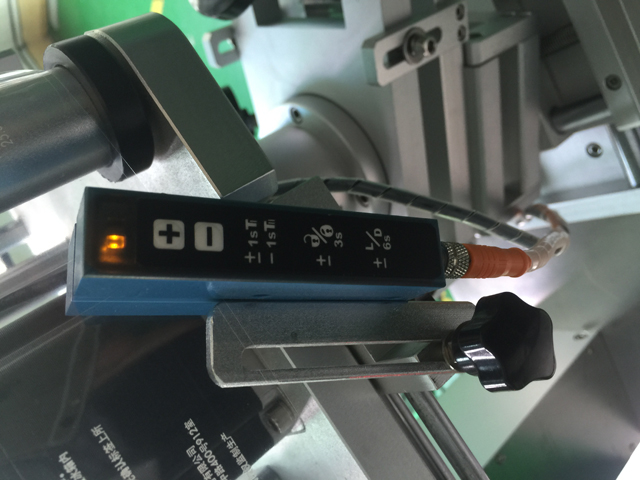 Final products for labeling samples