It adopts human-machine dialogue type touch screen: easy to operate, simple, servo control system, adopts PLC program control, and adopts double-distribution wheel structure so that the bottle to be labelled enters one by one. The labeling area ensures the labeling accuracy and the pass rate of each bottle. The marking mechanism adopts an all-round adjustment structure, and the roller labeling mechanism realizes multi-angle adjustment of up, down, left and right, so that adjustment under different specifications is simple and convenient, easy to learn and understand. An encoder is added to the conveying mechanism to synchronize the labeling speed with the conveying speed to ensure the stability of the labeling.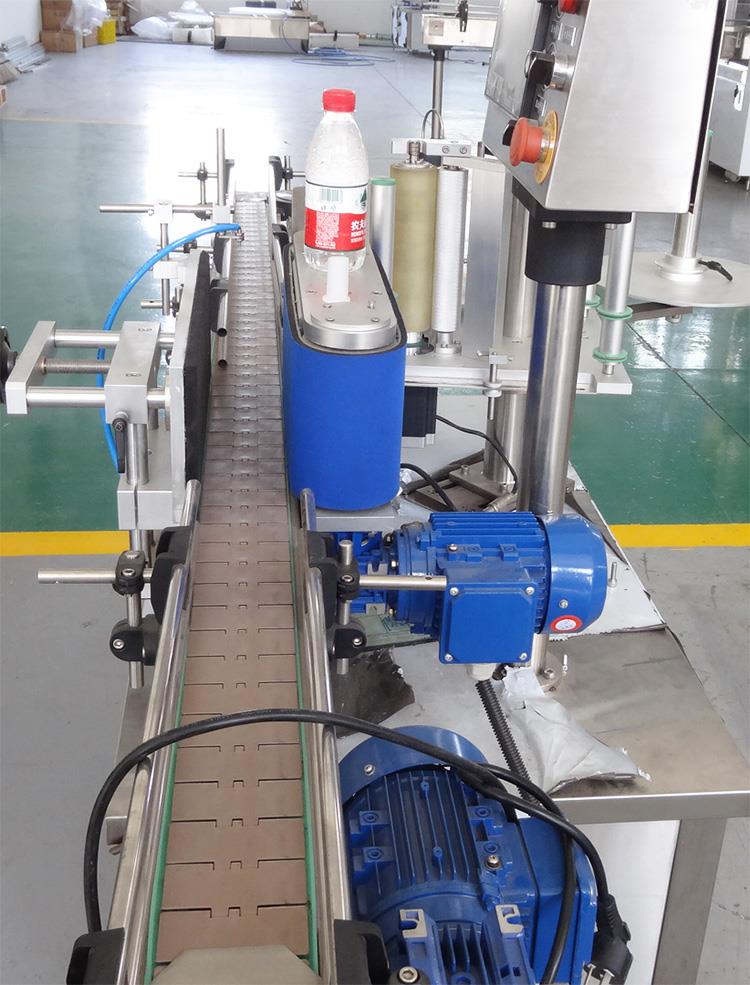 Introduction
This automatic bottle labeling machine, consist of A set of case(stainless steel, aluminum alloy) , A set of transport mechanism, A set of labeling send device, A set of wheel, A set of bottle separating device, A set of wheel adjustment device, A set of Electric System.
Multi-function Labeler suitable for all kinds of bottles, applied in food, chemical, and medicine industry. It can realize the automatic bottle-conveying, label-separation, attaching and so on series. The whole machine can be controlled by micro-instruments, which will be automatic control and check. The label and bottles will be at the same step. Cold printing system can also be matched according to customer's requirement. It is precise and easy to adjust and operate without causing much noises, part of the spare parts can be made according to customer's requirement.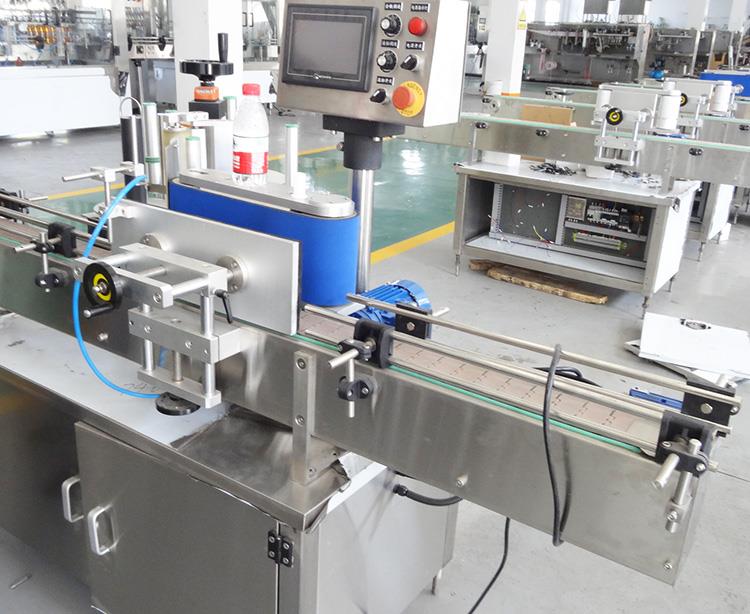 Technical parameter
| | |
| --- | --- |
| Labeling speed | 40-150pcs/minute |
| Bottle diameter | 40-120mm |
| Label size | L:20-280mm H:30-140mm |
| Labeler error | ≤ ±0.5mm |
| Reel outer diameter: | Max 360mm |
| label roll inner diameter | φ76mm |
| weight | 450kg |
| power | 1.5kw |
| Machine size | 2000*900*1700mm |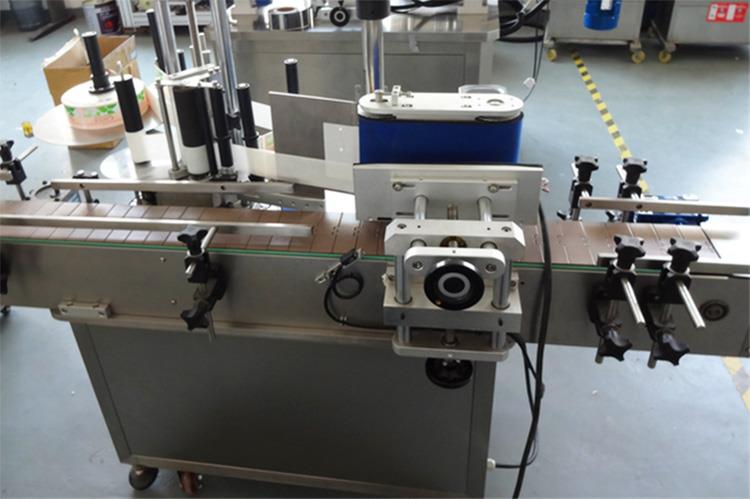 Main electrical configuration:
item
name
quantity
brand
1
PLC Controller
1
Taiwan DELTA
2
Human-computer
interface
1
Taiwan DELTA
3
Frequency converter
1
Taiwan DELTA
4
Label send motor
1
Yankong
5
Motor Driver
1
Yankong
6
Transformer
1
Great Wall
7
Power
1
Taiwan DELTA
8
Sensor of label inspection
1
LEUZE
9
Sensor of product inspection
1
KEYENCE
10
Alarm
1
AMPUT
11
Power Switch
1
Schneider
12
Emergency button
1
Schneider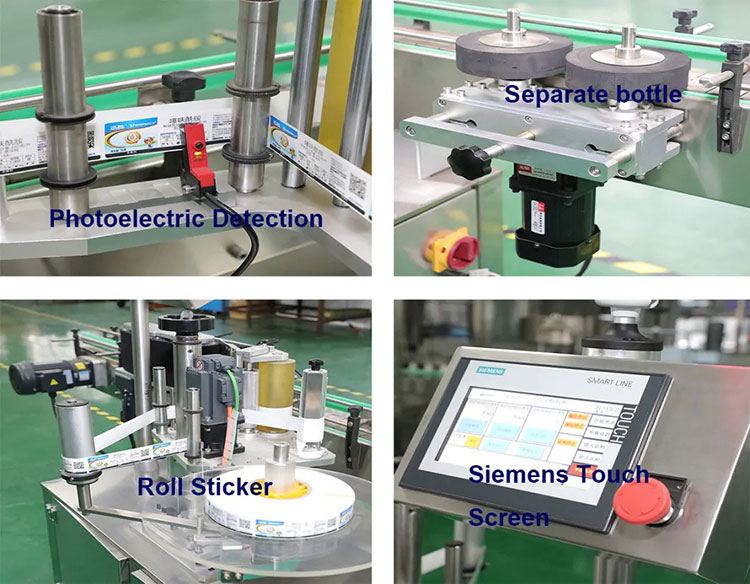 Technical Features and application :
1. This automatic bottle labeling machine affinity of the advanced man-machine interface system, operation is simple and intuitive, the function is all ready, have a wealth of online help function. The structure is simple, compact, easy to operation and maintenance
2. Adopts famous brand motor drive, the feeding speed is stable, reliable
3. Working principle: Bottle mechanism with pieces of separate product, the sensor detects the product pass, back the signal to the control system, in the appropriate position
Send label control motor and attached with a stay in product labeling position.
4. Operation: put a product (line) to product delivery (device automatically), the product separation and measurement - labeling - collection the labeled products.
5. Intelligent control
The whole machine adopts mature PLC control system, make the machine running stable and high speed
6. General shaped bottle device, any of the diameter of the bottle shape without replacement parts, rapid positioning adjustment
Note: (optional and adjustable rotating wheel with perfect general park bottle labeling machine
7. Operating system adopts touch screen control, operation is simple, practical, high efficiency, Mixer labeling speed, transmission speed, the bottle can realize step less speed regulation, according to the need to adjust
8. The scope of the machine: Suitable for various sizes of round bottle labeling, Rotary rolling bottles, labels attached more solid Pieces, connection line, also have optional material-collecting turntable and facilitate finished product collection, sorting and packing.
9. Code system: Pieces of the optional configuration (printer) can be online to print production date and batch number, cut the bottle packaging process, improve production efficiency, Pieces of advanced technology (gas/electric) actuator code printer system, clear, fast and stable printing. The thermal code printer with gas source: 5 kg/cm2
10. Label quality: Adopts elastic cotton belt, labeling level off, without creases, greatly improving the quality of packaging. Automatic photoelectric detection, no label no working, no label automatic correction or alarm automatic detection function, prevent leakage and waste.
Note: This solution is for the conventional standard equipment, If have special requirements for equipment improvement, it can upgrade or improvement.