Horizontal self-adhesive labeling machine high speed labelle is the perfect integration of high speed vial labeling system and high speed tray inserting system for a seamless one step operation of the two processes.
The system offers extra high speed operation, proven stability, and flexible material change. Applicable to vials, ampoules and other thin and narrow bottles.
Horizontal non-dry sticker glue labeling machine is widely used for such industries as food, medicine, fine chemical, cultural supplies, and electronics and so on.
It is applicable for the labeling of the objects with small diameters and unable to stand up easily, such as oral liquid bottles, ampoule bottles, needle tube bottles, batteries, hams, sausages, test tubes, pens and so on.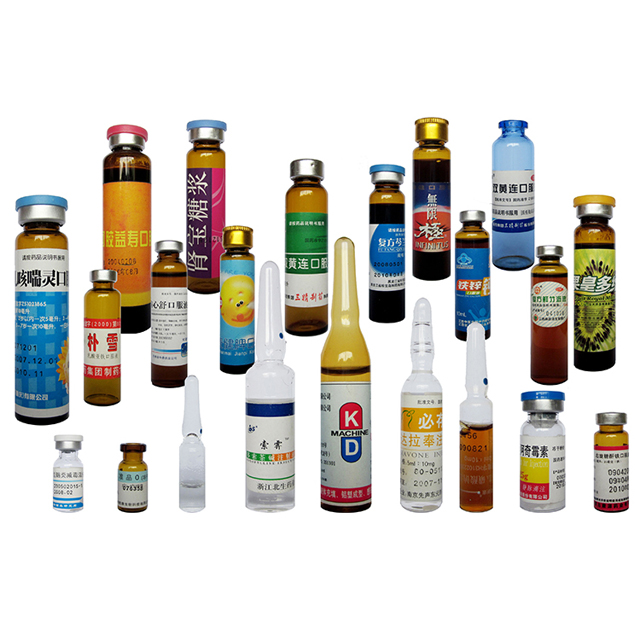 Warning Unit (if no bottle, no label, the warning unit will work.)
Features:
1. PLC combined with human/machine interface digital LCD touch screen controller;
2. Suitable for slender round bottle;
3. Stainless steel frame construction and components are standard;
4. Use screw to send bottle which makes smoothly and safely;
5. Send bottles in the direction of vertical horizontal to feed stability,use easy and lowlabor strengh;
6. Use sero motor to make high speed and good quality;
Specification
1. Reel outer diameter: Max 360mm
2. Label width: 10-135mm;
3. Labeling speed: 30-350bottles/Min;
4. production diameter: 15-150mm;
5. label height: 15-180mm;
6. Labeling accuracy: ±0.5mm;
7. Power supply: 4200W , 110V/220V , 50/60HZ;
8. Machine size: L2880 * W1700 *H1580 mm;
9. Reel Inner diameter: 75mm;
Remarks:
1. Construction Material for high speed labeling machine:
Item
Parts Name
Quantity
Brand
1
Labeling Servo  motor
1
TAMAGAWA(Japan )
2
Labeling motor drives
1
3
Convey motor
1
VTV
4
Convey motor gear case
1
5
Volume label motor
1
6
Volume label motor gear case
1
7
Separate bottle motor
1
8
Separate bottle motor gear case
1
9
Label photo- electricity
1
SUNX (PANISONIC)
10
Label check photo-electricity
1
11
PLC
1
Made In Taiwan
12
Touch-screen
1
Delta Taiwan
13
Convey belt
1
Made in China
14
In-phase gear belt
1
Mitsubishi
15
Coding machine
1
Pneumatic/Electro motion
2. Warranty terms: The seller warranty the machine for one year, and supply one year free spare parts with the machine
3. Spare parts list
No.
Designation
Specification
Quantity
Remark
1
Synchronous belt
1 pc
For one years spare parts
2
Screwdriver
Cross type
1 pc
3
Straight type
1 pc
4
Character
1box
5
Nipper
1 pc
4. Operation Guide on how to operate high speed vials labeling machine:
The operation manual will be shipped with the goods and in English Version. Before shipping we will camera the video about how-to of the labeling machine as well.
System Parameter
■ Working Environment:
Temperature: 5℃ - 50℃
Humidity: 20% - 90% (No dew)
■ Working Power Supply:
Input: AC 220V ± 10% (50HZ)
Output: DC 24V ± 2V
■ Programmable Logic Controller:
Input: DC 24V 8-point transistor
Output: DC no junction 6-point transistor
■ Man-machine Interface:
Display: 5.7" FSTNLCD
Pushbutton: Touch screen
We are the expert of making labeling machines, how to choose labeling machine is determined by the labeling size and bottle shapes and bottle size.
According to you bottle dimension and shape, we would like to introduce and recommend you the suitable machine which we sold many to local china pharmacy factories and exported many other countries.