Introduction of machine
This equipment is suitable for labeling the circumference or semicircle of various unstable cylindrical objects. Widely used in cosmetics, food, medicine, daily chemical, electronics, toys, hardware, plastic and other industries, it can achieve full week / half week labeling.
Features:
1.The flexible three-axis imported red glue labeling mechanism is adopted, which has good labeling effect and high efficiency; the new vertical hopper automatic bottle splitting mechanism is adopted; the flexible bottle splitting technology and flexible labeling conveying technology are applied, which can effectively eliminate the bottle splitting not smooth caused by the error of the bottle itself and improve the stability;
2. Horizontal labeling of bottle, horizontal feeding of vertical hopper, horizontal roller conveying labeling, inclined conveying chain, automatic guiding of bottle, flexible labeling, three-point positioning method to ensure labeling accuracy, automatic bottle separation function, single machine production or assembly line production;
3. It adopts PLC + subdivided stepping motor to drive and send the label with accurate standard and high stability. It adopts cam brake mechanism with uniform tension to ensure that the label is tight, to reduce label breakage and to ensure label detection accuracy. It can avoid label left and right deviation and ensure the accuracy of label output;
4. Color touch screen control, Chinese and English optional operation interface, convenient and intuitive, powerful data memory function, can store 50 groups of labeling parameters, with production counting function, power saving function, production number setting prompt function, parameter setting protection function, convenient production management, different products labeling switching one key implementation, without repeated debugging, simple and fast; and perfect fault extraction Display and help functions;
Main parameter :
| | |
| --- | --- |
| Driving Mode | Servo motor |
| Yield(pcs/min) | 20-150( can adjustable ) |
| Operating direction | Left or Right |
| Conveyor Speed | ≤40m/min |
| Labeling Accuracy | ±1.0 mm |
| Label roll inner diameter | 76 mm |
| Label roll outer diameter | 350 mm(max) |
| The suitable size of label | Standard size: H: 15-130 mm  L: 15-300 mm (Other size can customized ) |
| The suitable size of bottles | Can customized |
| Printer device use air | 5kg/cm ² |
| Power | 1000W |
| Weight | 350 |
| Conveyor height | 900±50mm (Height can customized) |
| Machine size | 2400(L) l800(W) 1800(H)mm |
| Voltage | 110V/220V/380V |
Details: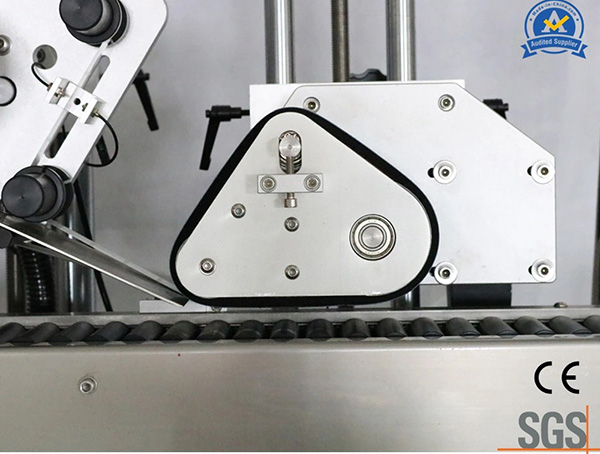 Label receiving mechanism:
Motor control is synchronized with conveyor belt and label pulling mechanism to collect label backing paper.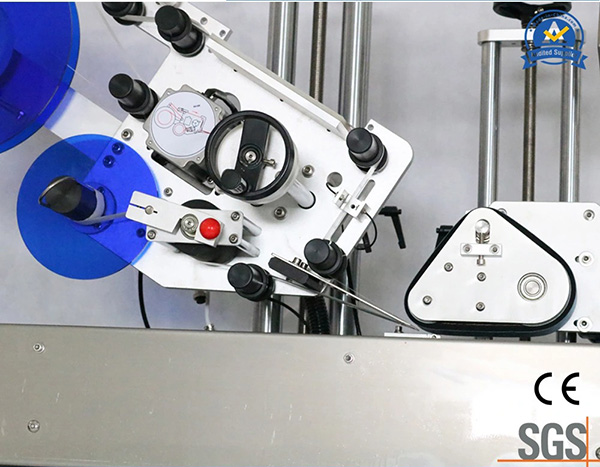 Label power mechanism:
Use the servo motor as the power, use the eccentric mechanism to press the label paper tightly for power rolling, and use the stripping board to mark when rolling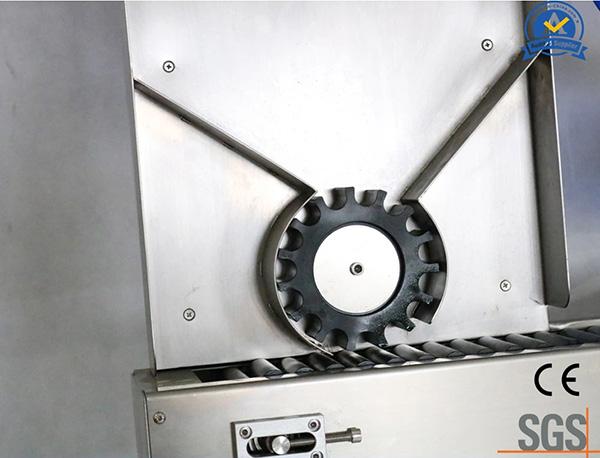 Blanking station:
simple, clear and convenient for copying.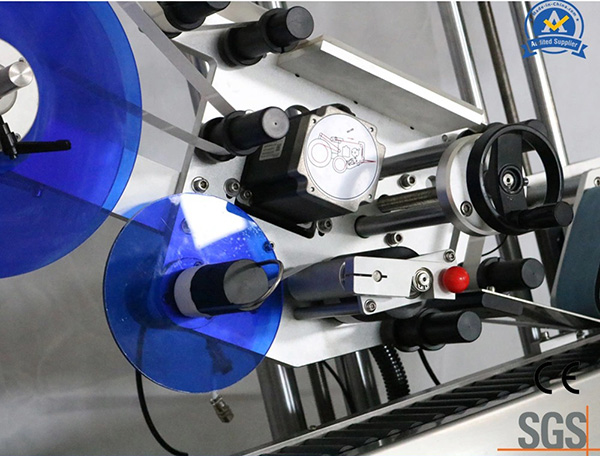 Label roller device:
beautiful, dustproof, easy to change label.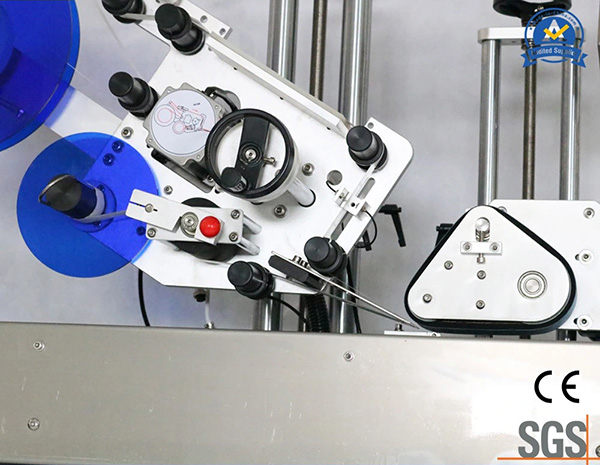 Label stripping mechanism:
It can adjust the position of label dialing. The position of label dialing and label sending can be adjusted quickly and easily.