The double side automatic labeling machine is suitable for square bottles or flat bottles with double mark or single mark . The shape belt can be inclined, and the labeling head can be adjusted at eight orientations, so the machine can be adhustd successfully in several minutes for any bottle.
Parameter of bottle labeling machine
Supply power (V/Hz): AC 220/50 110/60
Power (W): 1500
Labeling precision (mm): ±1.0
Labeling size (mm): Height 15-100mm Length 20~300mm
Bottle size (mm): Outer Diameter 12-100mm Height 30-200mm
Capacity (b/m): 40-120
Dimension(L×W×H)(mm): 2200×1400×1550
N.W(kg): 320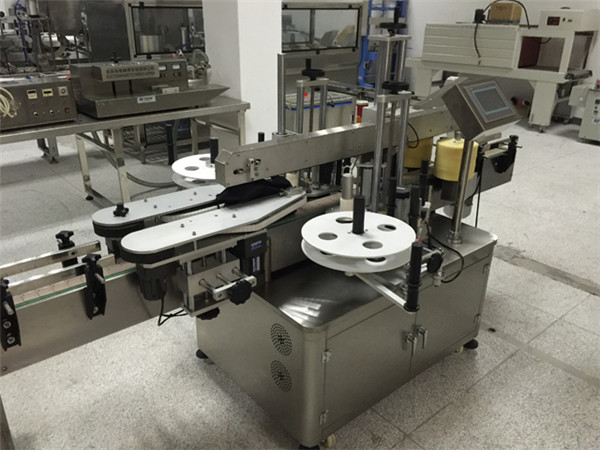 The pressure between the active axle and press roller can be adjusted, so the running direction of the lanel can be adjusted freely, The label is only pressed flexibly without causing any distortion.
The labeling head adopts the structure of the double press rollersl, it guatantees that the label is pulled tightly but not broken because of the underneath paper die-cutting , the sepatated clutch makes the strain more balanced. The touch screen based human interface in chinese and English with one online helping system makes it easy for operate the machine.  The press belt is feared into the main transporting line , so it makes the two transporting lines work in synchronous absolutely.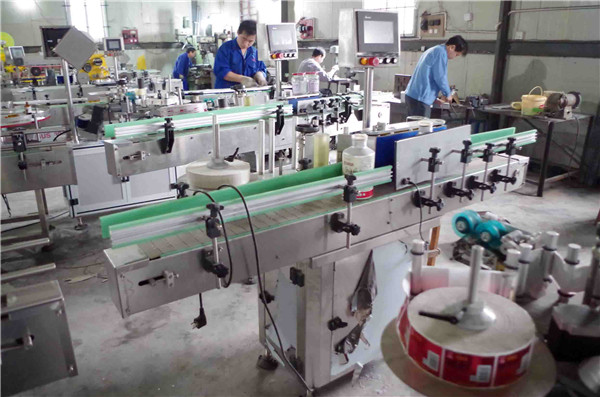 The automatic labeling machine is supplied with the famous sever motor, so it realizes real closed loop controlling and it avoids the phenomenon of "the blind man walk" when supplied with the stepper motor. The multi channel encoder detects labeling position precisely at high speed. The label is pressed by a flap after appying on bottle and pressed by the active and passive sponge rollers. so when the label is stuck it has not any bladder. It is especially applicable to the crystal bottles labled with transparent labels. The optional air driving and roller labeling set can label round bottles precisely.
Automatic labeling machines can be used as stand alone labeling stations, but are manufactured to work as a component of an automated packaging system. Different labeling machines can be used to apply labels in different formats, as discussed below. Automatic labeling machines can add significant speed to the labeling process, requiring an operator only for set up and the changing of label rolls. Normally, as bottles move down the belt conveyor system, a bottle separator will be used to place a small gap between each container, assuring that the consistent, wrinkle-free application continues even at the increased speed.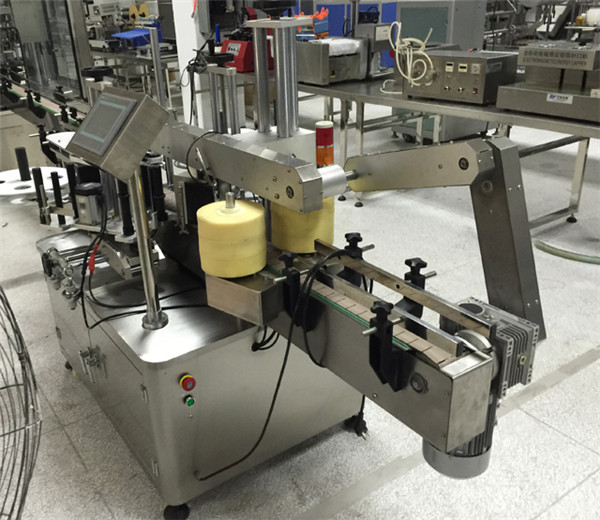 Labeling Formats
Labeling machines can apply labels to an array of container types and sizes in a variety of different formats. One of the most common label types in the wrap label. Wrap labelers, quite simply, wrap a label around a bottle. Bottled water and other drink type products take advantage of the ease of wrap labels, which work well with round containers. However, labeling machines are able to accomplish much more than simply wrapping a label around a bottle. Top and bottom labelers and front and back labelers can apply two different labels to the same container as it moves through a labeling machine. Keep in mind that depending on the configuration of these type of labeling machines, the labels themselves may need to come in a specific setup from the label manufacturer. These two label systems allow packagers to create a front label for marketing and product presentation while placing nutritional and other information on a back label. Labelers may also be manufactured to apply three panel labels to square or rectangular containers, corner labels and other custom formats for unique packaging projects.