Dual lane shrink sleeve label applicator machine employs two synchronized heads and it can run either as a single head or as a dual head multifunctional machine capable of applying and shrinking sleeve labels and cap seals at the same time on a variety of empty or filled round, square, rectangular, oval containers in plastic, glass and metal widely used for beverage, food, pharmaceutical, personal care, household, chemical and other industrial products, this dual head shrink label applicators help customers to save space, budget, labor cost and increase efficiency rather than using two single-head mandrel style shrink sleeve applicator machine.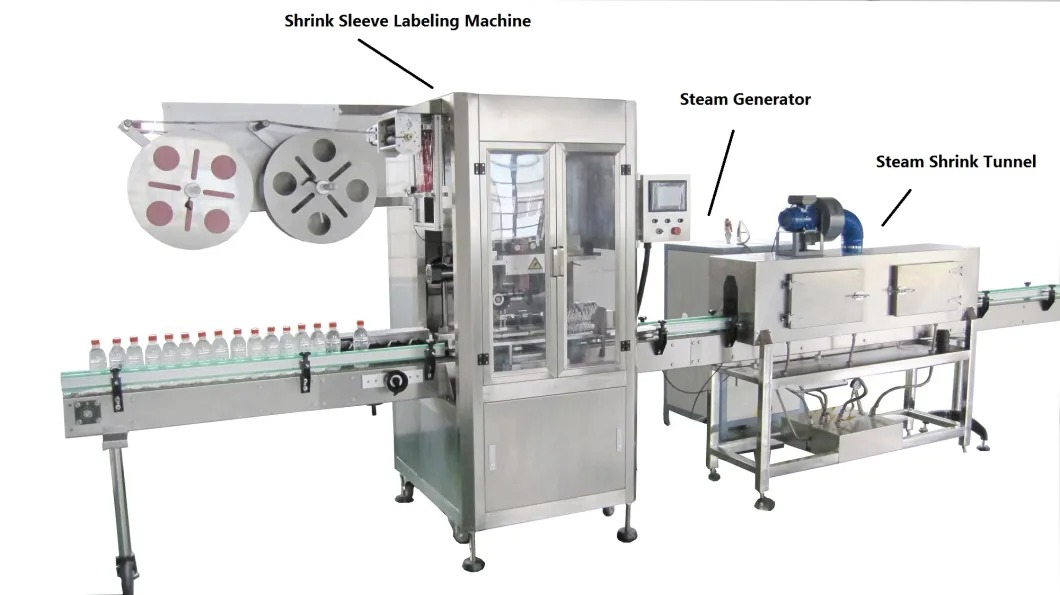 Dual head shrink sleeve label applicator machine is an unique and flexible double lane automatic shrink label applicator machine, This shrink sleeve label applicator is specially designed for customers who want to apply and shrink sleeve labels and cap seals on the bottles at same time and help you save budget, labor cost, budget and increase efficiency, which single head shrink label machine can not handle. This dual lane shrink labeling machine has two independent synchronized sleeving heads, it can be run as a single lane machine or as a dual lane multifunctional machine capable of running sleeve labels and cap seals at the same time to double your output capacity. It is a perfect solution for full body sleeves or fully body sleeves with tamper evident band application.
Dual head shrink sleeve label applicator machine is manufactured with stainless steel 304 with allowing machine to operate in most production environments, Critical electronic components and PLC controls are made by Siemens, Mitsubishi,Omron Schneider and other world famous brand, servo driven, PLC controlled label drive rollers, and label shooting wheels to provide accurate and consistent shrink sleeve delivery, a four blade servo driven cutter assembly for fast precise cuts, low scrap, the unique cutter assembly modular design allows for easy change of blades or quick, tool-less changes to other cutter boxes when changing label format or container size, cutter boxes use common, affordable utility blades that can be found in a local hardware store, the fast change mandrel minimizes down time from one size containers to the other, Product runs are PLC controlled programmed with the user-friendly touch-screen control panel HMI.
Brief Introduction
1) The Sleeve Labeling Machine is customized to meet manufacturers' and suppliers' exact demands. It can be applied stand alone or integrated in-line and matching filling equipment speeds.
2) The framework of equipment is upon seam welded, food grade stainless steel section. This solid foundation can reduce movement and vibration to an absolute minimum, and thus ensuring consistent, accurate labeling.
3) The unit cutter head plane applies to the container of ∮30 mm-∮130 mm. You never need to change or debug it. Besides, It is equipped with unique light touch human-machine screen, namely, automatic search original location as well as safety and convenience which is ahead of other congener products.
4) With reasonable height, it is convenience to fix the labe You only need to press it lightly. What's more, the label will detect and locate automatically. The change of label is easy and convenient. Besides,the cut place is absolutely exact.
5) The newly designed cutter stepper motor of which speed is high, and action is exact. The cut is in order and the shrinking is perfect. This design cooperate with the label synchronized location, structure enable the precision of cut location within 1mm.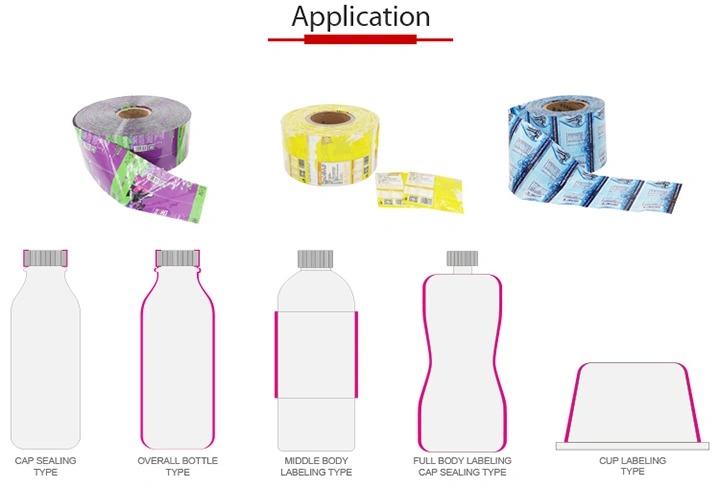 Technical Specifications
Model No
SLM-150-2
SLM-250-2
SLM-350-2
SLM-450-2
Speed Range
150x2BPM
250x2BPM
350x2BPM
450x2BPM
Container Shape
Round, square, rectangular and oval containers with contours
Container Type
Glass, plastic and metal
Sleeve Label Material
PVC, PET, OPS, & OPP
Material Thickness
0.03-0.13mm
Container Dimeters
28-125mm
Container Height
50-305mm
Sleeve Lay Flat
25-200mm
Sleeve Cut Length
38-305mm
Core Size
5″- 10″Adjustable
Full Spool Outside Diameter
500mm
Electric Supply
220V 50/60HZ 1/3PH;380V 50/60HZ 3PH
Machine Dimension
3×1.2×2.1M
3.2×1.2×2.1M
3.8×1.2×2.1M
3.8×1.2×2.1M