The Rotary Orientation Position Automatic Labeling Machine is designed to achieve a reasonable production goal. The labeling process is automated, the operation is simple, the production speed is fast, the labeling position is uniform, beautiful, and tidy; it is suitable for the round container labeling in the pharmaceutical, chemical, food and other industries, and can be labeled on the whole week and half circumference. Optional ribbon coder and printer, labeling at the same time to achieve print production batch number, production date and other information. To achieve the integration of labeling and coding, reduce the number of packaging processes, and increase production efficiency.
Technical Parameter:
Labeling speed
50-100b/m
(Adjustable speed, depending on bottle size and label length)
Labeling accuracy
+1mm(depends on products Characteristics, hardness and trueness of the circle)
Bottle diameter
30-130mm
Object range
 Height: 20mm ~ ~ 300mm (Can be customized according to customer requirements)
Label specifications
Height:10mm~~150mm  Length: 15~~300mm
(Special specifications can be customized)
Roll diameter
 Φ76mm Outer roll diameter: Φ300(max)
 Power supply
 AC220V 50/60HZ 1500W
Weight
 200KG
Package Size
2000*1300*1500mm
Equipment advantages:
(1) Simple adjustment, configuration before and after, left and right and up and down direction, plane inclination angle, vertical plane inclination angle adjustment seat, no dead angle of different bottle shape switching, in line with GMP production requirements;
(2) Automatically divide the bottle, effectively eliminate the error caused by the bottle itself is not smooth, and improve stability;
(3) With automatic stop function, production count function, power saving function (the device automatically goes to power saving standby state when there is no production within the set time), production number setting prompt function, parameter setting protection function (parameter setting sub-rights management), Convenient production management;
(4) Powerful, color touch screen control, Chinese and English optional operation interface, convenient and intuitive, powerful data memory function, can store 50 sets of labeling parameters, with production count function, power saving function, production number setting prompt function, parameter setting protection function , Convenient for production management, one-button switching of different product labeling, no need for repeated debugging, simple and quick, and with perfect fault indication and help function;
(5) High stability, the use of imported brands for measuring and testing sensors, high detection sensitivity, stable performance, and durability; stable and durable bases and various parts, all adopting standardized modular design with complete interchangeability, 24 Hours of operation to ensure safety and stability.
(6) Safety and health, chassis, stainless steel SUS304 material and T6 aluminum alloy, never rust, in line with GMP excellent manufacturing standards;
Details:
PLC & Touch screen: (easy to operate)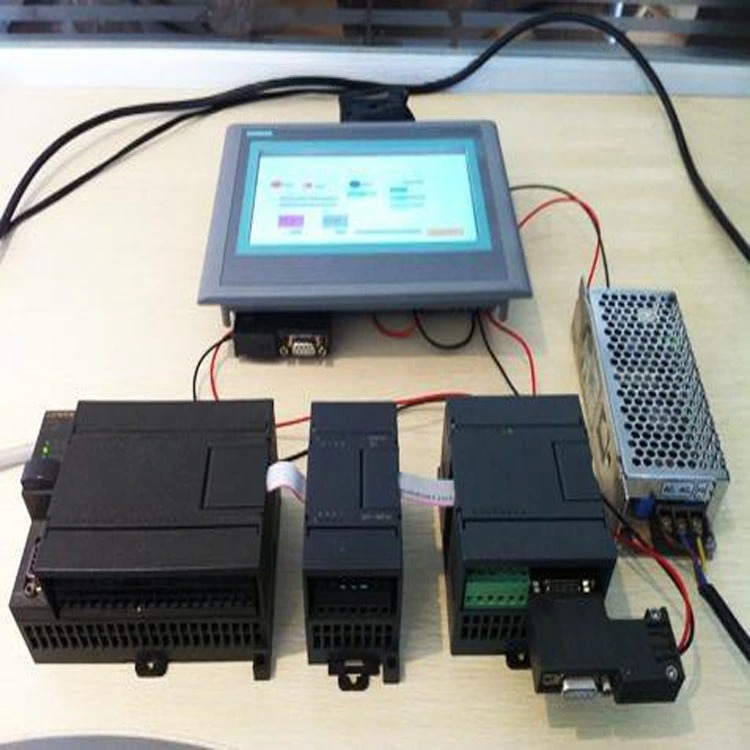 Conveyor:
Sensor: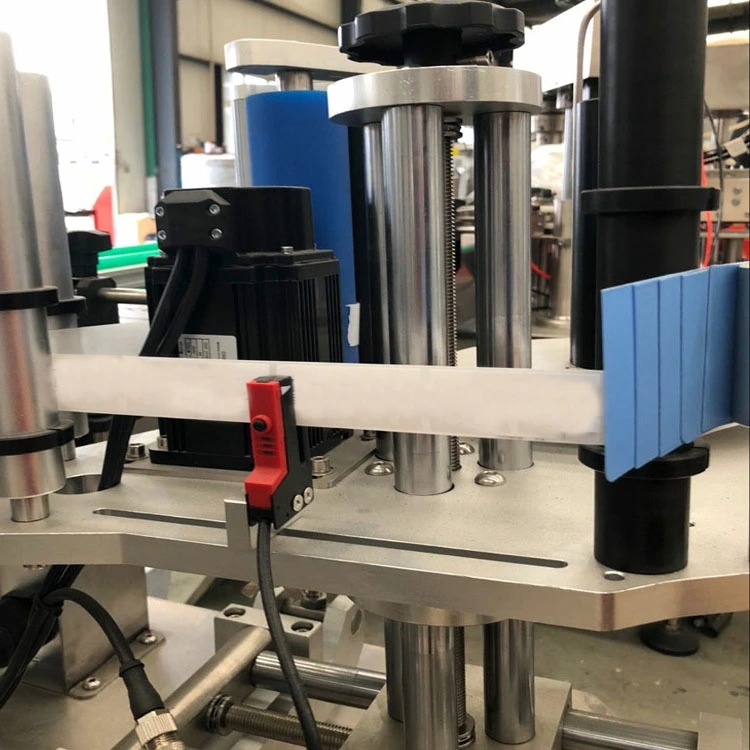 Power mechanism