Since our company enters into the label sleeve machine market, has been return customers good quality, the use electrical accessories are imported premium brands such as: Germany's Siemens, Japan's Mitsubishi, Japan Yaskawa, Japan's Panasonic. the team by experienced engineers in research and development to meet the different requirements of customers. Company uphold sustainable services, constant pursuit of the business philosophy, a unique mechanical design and the accumulative year control essence to create the most competitive automation equipment.
This sleeve shrink labeling machine, Before bottles carried into the label sleeve machine, multi-monitoring points are sat up in the buffer area coordinated with bottle monitor transducer automatic following(switchable manual/auto mode),and adjusting speed to make production line more smoothly. Auto errors detect, with human-computer interface and colored alarm light, can timely find the machines' fault cause.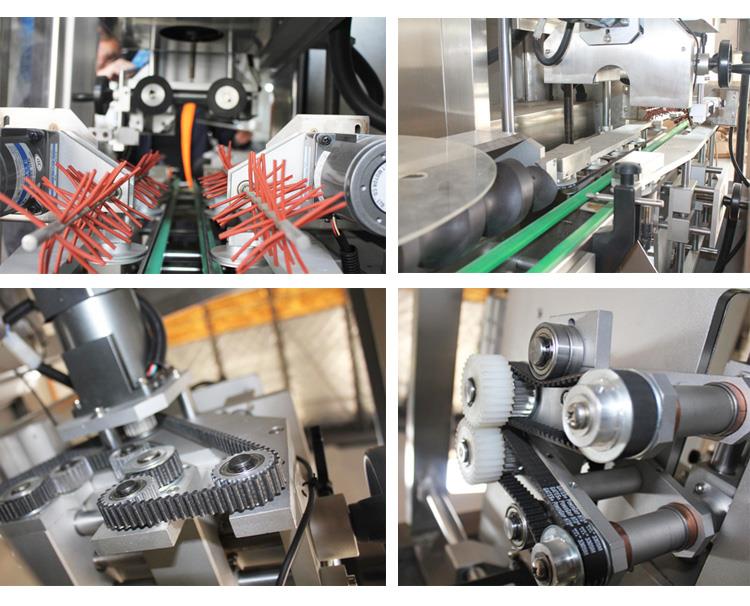 Introduction:
1, The machine is made of stainless steel and high quality of aluminum alloy, the reasonable, intact frame,
2, The feet bolt is not needed, easy to move suitable for different place.
3, The shrinkable film roll with adjustable locking gear, can be adjusted according to different roll 5'-10'
4, The applicable bottle is the machine square bottle and round bottle
5, Without tools, the driven machinery can be adjusted to meet different bottle size
6, Particular inserting label ways, i.e. inserting label, it is reasonable and convenient.
7, Full automatic feeder, the flat shrinking and tension are adjusted together.
8, It is assured to low error that there is inspection of rolling label cut.
9, Particular blade design, blade base can be change by free, changing blade quickly and conveniently.
10, It is easy to change the central clamping device without any tools.
11, Oriental rolling label device can be lifting synchronal.
12, The separating bottle screw, oriental belt and conveyor are adjusted synchronal.
13, Adopting ANCHUAN servo motor made in JAPAN and sensitive photo electricity, to insure the precision of cutting label.
14, Stainless steel electric controller, adopting Mitsubishi PLC made in Japan
15, Adopting advanced man-machine automatic controlling technology, main component adopts famous brand.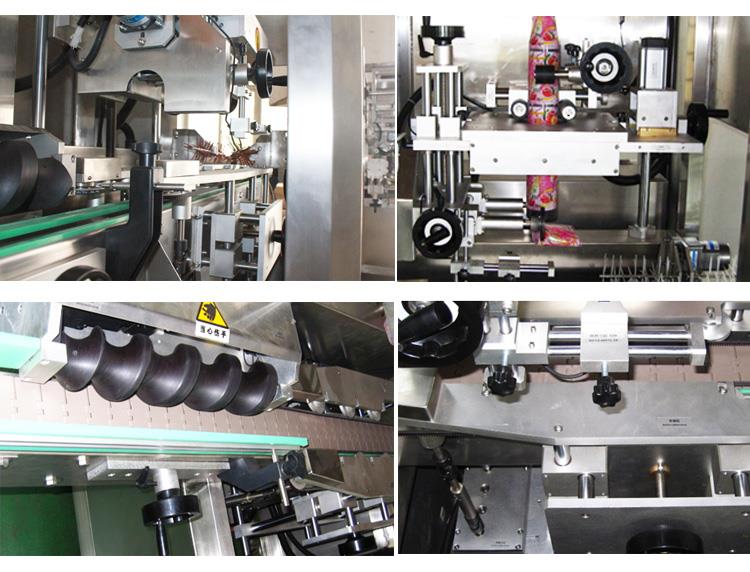 Technical parameter
Capacity
27000BPH(label height≤100 mm) (Calculation of standard length≤100mm)
18000BPH(label height≤250 mm) (Calculation of standard length≤250mm)
FPY
≥99.9%
Whole line production efficiency
≥95%(Calculation of 24 hours)
Applicable diameter of bottle
Æ28mm ~Æ 125mm
Applicable length of label
30mm ~250mm
Applicable thickness of label
0.027mm ~0.13mm
Label material
PVC、PET、OPS
Volume label inside diameter
≥4"(101.6mm)
Volume label outside diameter
≤500mm
voltage
AC380V,50/60HZ,three phase
label sleeve machine output
6KW
Shrink tunnel oupput
1.5KW
Steam pressure
1-8Kg/cm2
Steam air consumption
<50Kg/ (hour)
Dimension of the machine
Host label sleeve machine: L2360*W1770*H2700
Steam shrink tunnel: L2300mm×W500mm×H1500mm
Weight
1200 kg
Technical Features and application :
1. Synchronized transmission, any change of transmission belt will be finished quickly. Compared to the type of traditional multilayer whose change and maintain need more than six hours, its maintenance is easy and maintain is simple ,so it doesn't influence production.
2. New style cutting knife drive by servo motor, with high speed, more stable and precise, shrink perfectively. Synchronous locating device enables the tolerable error to 1mm.Unit cutter head plane design in China which apply to the container of 30mm to 130mm.you never need to change or debug it. It also has unique light touch human-machine screen, that means auto search original location as well as safety and convenient which is ahead of other congener products.
3. Adopts double material shelf which enable the change of label more convenient and fast. There is label checking photo electricity and when there is no material, it will stop automatically and give alarm light and also display on the touch screen. It adopts ultrasonic sensor which enables the label feeding stable and fluent and avoid the error label length, label block and other problem when label feeding servo convey the label.
4. Adopted with motor coordinating with double circular arc synchronous belt makes clean down plastic core-rubber-tires synchronously and ensures the label casting stably. Inhibiting device on the screw mandrel effectively control the fault operations and ensures the safety of the center pillar.
5. Adopted with mechanical transmission to drive the positioning belt on both sides. While changing the whole bottle carrying unit, the down and up, width are all controlled by one hand wheel aiming to synchronously and swiftly adjust.
6. Adopted with electro motion to adjust more conveniently and fast.