The automatic sleeve labeling machine adopts intentional advanced technology---cover the circle label on the bottle. Hot shrinking to fix on the position which bottle body is designed. This machine's structure is compact, and suitable for the production line of different directions and different heights.
The machinery part adopts combination designing of modularization and makes the machine reliable. The height adjustment adopts motor fluctuation. It is convenient to replace the material. The special cutter head design, make the label rolling cut more accurated and reliable.
It is widely used in mineral water bottle, pure water bottle, soft drink bottle, medicine bottle, food bottle and other containers. Production capacity range is 2000-40000BPH.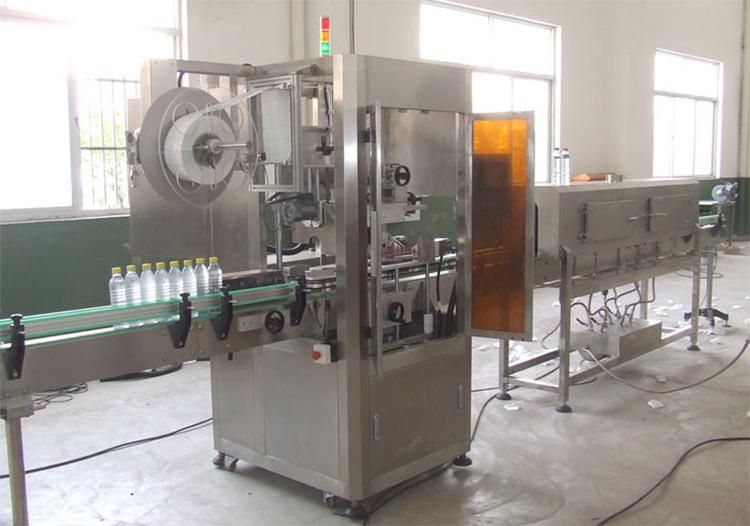 Introduction
Since the establishment, under experience of the long-term accumulation in the mechanical design and manufacturing, according to the different needs of customers have developed the VK-150B, VK-250B, VK-350B, VK-450B, VK-600B (single head label sleeve Machine), its speed is in the 150 to 200 bottles per minute, 250 to 300 bottles, 350 to 400 bottles, 450 to 500 bottles, 600 to 700 bottles. Double head label sleeve machines are produced based on the upgrading technology enables the production speed reaches 40000 bottles/hour. According to the customers' needs, we absorb foreign advanced technology to develop Hot Melt Labeling Machines, automatic PE Film Packing Machines and carton packing machines. For the requirements of packing machines, from the direction of the mechanical structure, circuit design, intelligent control, increasing productivity to improve them, launch bran-new automatic packing machines, to promote your product to more ideal route, to be the advanced manufacturer of the packing machines.
This pvc sleeve shrink applicator labeling machine will carry bottle, separate bottle, sleeve label and shrink label together which is with high speed, accurate position, fewer worker and perfect packing. Our machine can be applied to the packing of beverage, condiment, cosmetic, etc.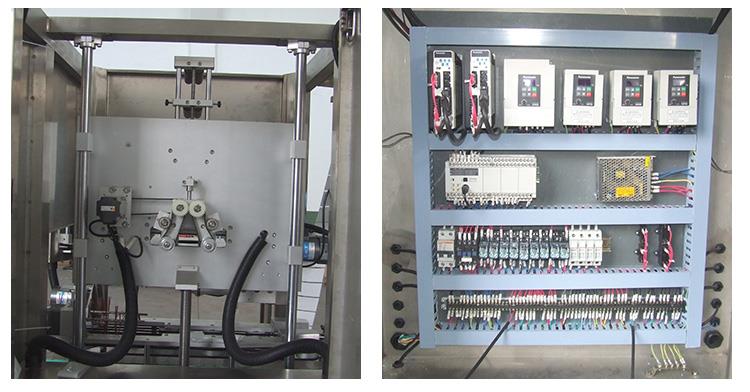 Technical parameter:
| | |
| --- | --- |
| Production capacity | ≥250bottles/minute(label length≤100 mm) |
| Percent of pass | ≥99.9% |
| Whole line productive efficiency | ≥95%(according to 24 hours) |
| Applicable diameter of bottle | Æ28mm ~Æ 125mm,special size can be designed |
| Applicable length of bottle | 30 mm -280 mm,special length can be designed |
| Applicable material of label | PVC、PET、OPS |
| Applicable length of label | 30mm ~250mm |
| Applicable thickness of label | 0.027mm ~0.13mm |
| Applicable material of label | PVC、PET、OPS |
| Transparent length of label | ≥5mm |
| Internal diameter of paper tube | ≥4"(101.6mm) |
| Outside diameter of paper tube | ≤500mm |
| Voltage | AC380V,50/60HZ,3  phases |
| Input power of label sleeve machine | 3KW |
| Outside dimension | Label sleeve machine:L2100mm*W850mm0*H2000mm |
| Total weight | 700kg |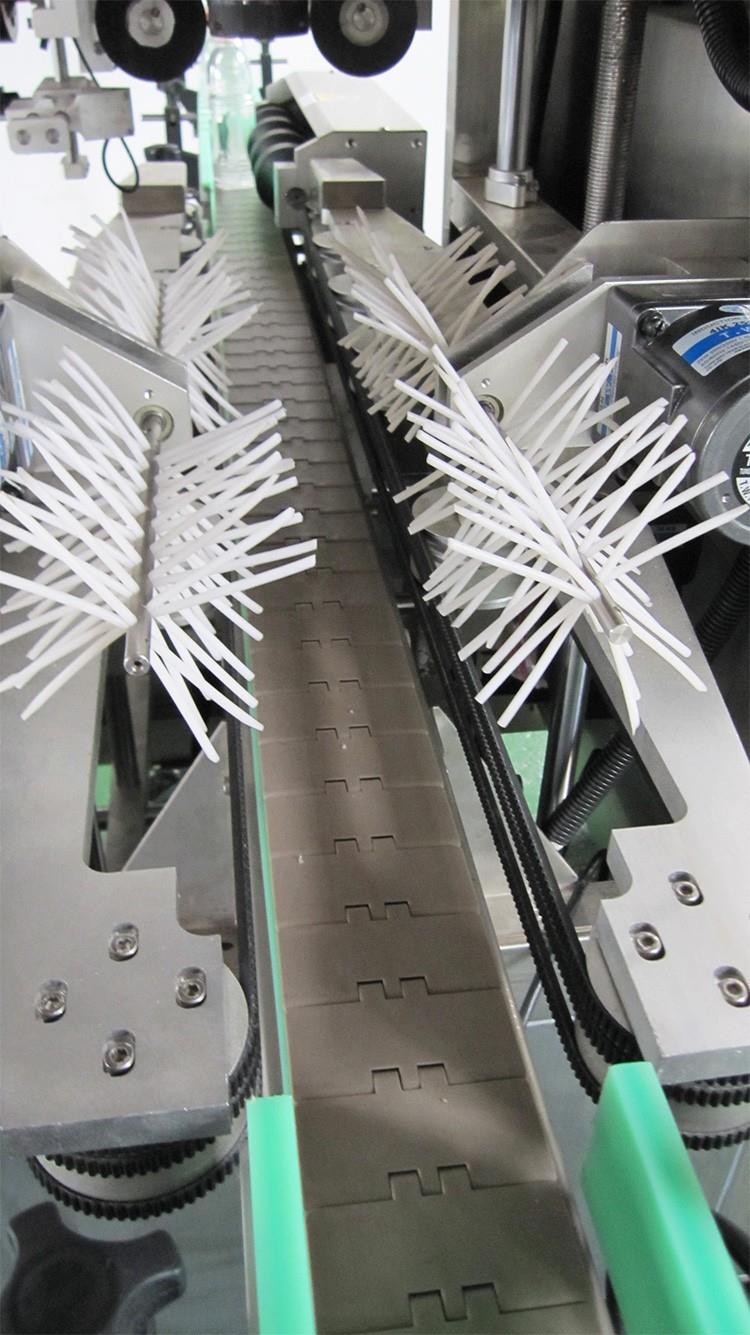 Technical Features and application :
1. Driving unit:
Synchronized transmission and drive by gear with one belt. The change of transmission belt will be finished quickly. Compared to the type of traditional multilayer whose change and maintain need more than six hours, its maintenance is easy and maintain is simple, so it doesn't influence production.
2. Cutter head unit:
The new design of cutter adopt step motor with high speed, stable and exact movement, trim cut place and perfect shrink. Compatible with the label synchronous location structure, the error of cutting place is within 1mm.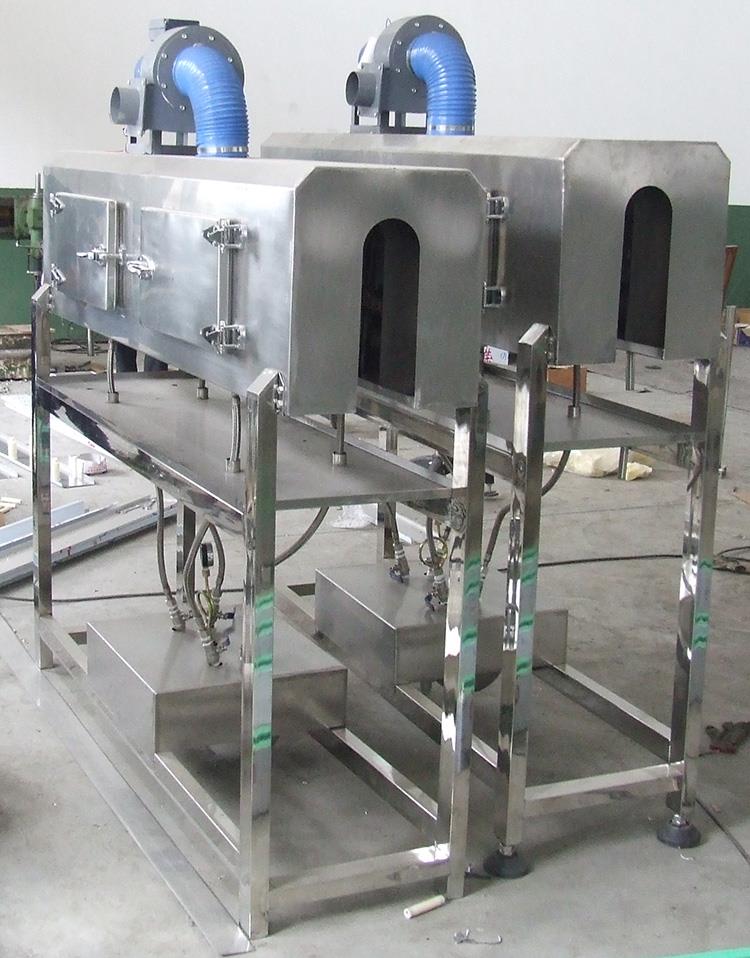 3. Label feeding unit:
Single material shelf with reasonable height in order to make it convenient to install label. It adopts rotary potentiometer which enable the label feeding stable and fluent and avoid the error label length, label block and other problem when label feeding servo convey the label. It will stop automatically and give alarm light and also display on the touch screen.
4. Clean down unit:
Adopt with motor coordinating with double circular arc synchronous belt makes clean down plastic core-rubber-tires synchronously and ensures the label casting stably.
5. Bottle carrying system:
Adopted with mechanical transmission to drive the positioning belt on both sides.While changing the whole bottle carrying unit, the down and up, width are all controlled by one handwheel aiming to synchronously and swiftly adjust.
6. Machine head up and down unit:
It adopts motor to up and down which enable the operation more convenient.
7. New steam shrinking tunnel:
The new style steam shrink tunnel improve the efficiency highly. The adjustment and maintain is convenient, the shrink is in order. The spout of steam use the separation style which make the tunnel smooth. The spout mouth is divided into four parts and the height ,place and quantity of steam of every part can be adjusted in order to make the shrink effect perfect .The low pressure steam bag use the seamless steel tube design and every connect tube use stainless steel soft tube ,so the disassembly and fixing is very convenient. The whole machine is made of stainless steel, so it is heat preservation and save energy sources. Besides, it accord with the international safety standard. The stainless steel plane at the bottom can condensate water and drainage them and working environment cannot be influenced. There are two eye window in front and at the back of the box body. The waterproof design of the whole machine is made of stainless steel which makes the operation and maintain convenient.
8. New hot air shrinking tunnel:
It adopts high pressure blower machine. Special designed hot air circle tunnel saves more energy and make the shrink bottle more beautiful. Compare with the traditional shrinking tunnel, this kind of tunnel can do better for curved bottle.