This machine adopts international advanced technology; cover the circle label on the pet bottle. And then hot shrinking to fix on the position which bottle body designated.This machine's structure is compact, and suitable for the production line of different direction and different height.
The machinery part adopts combination designing of modularization, and makes the machine reasonable. The height adjustment adopts motor fluctuating; it is convenient to replace the material. The special cutter head designing, make the film-rolling cut more exactly and reliably.
Main technical parameters:
| | |
| --- | --- |
| Dameter of suitable bottles | 20-125mm |
| Bottle Height | 15-320mm |
| Size of label (L*H) | 50-330-40-150 mm |
| Suitable bottle shape | round, square, elliptical, rectangular |
| Labeling rate | ≥99.9% |
| Label Length | 25-200mm |
| Label Thickness | 0.035-0.08mm |
| Label paper core diameter | 3-10mm |
| Voltage & Power | 220V, 2KW |
| Net weight | 500KG |
Spare Parts List:
1. All closed Stainless steel main body: Safety for the operator. The whole machine is water-proof and anti-corrosion.
2. Adjustable knife pallet: Unique design rotary type knife, double-blade with long duration.
3. Single positioning core column: convey the label stablely.
4. Bottle Space Adjustment: the bottle will not run out of conveyor and move stablely
5. Brush for label positioning: More accurate.
6. Label control photocell frame: Unique empennage combinated with photocell, enhance the cutting accuracy.
7. Single color HMI screen
8. Fixed with feeding Frame Bar
Adopt PLC control
Use PLC man-machine interface control system, which is easy to understand.
Adopt famous brand electrical componets
The use of international famous brand electrical componets, performance and stability
Features:
1. The whole line can be adjusted production automatically or manually: Automatic speed control: automatic state on our machine can be adjusted according to the former way production speed automatically, with bottles of magic eye, fully automatic tracking system with convenient and fast function to automation.
Manual control: can be according to the requirements of the production speed to control the delivery schedule, the operation of the speed fully human.
2. Whole machine malfunction automatically detect, cooperate with man-machine interface in Chinese display and trichromatic lamp alarm prompt, timely find out equipment failure reasons
3. The machine delivery of a complete set of institutions synchronous transmission need to adjust a knob, you can easily adjust the machine running speed. The machine automatically detects adjust speed automatic condition.
4. Single positioning guide pillar type center: more stable to guide the label.
5. Adjustable cutter head: original cyclotron cut-off, double blade, long life;
6. Applicable bottle type: round square, flat, cup type and irregular curve type bottles.
The details:
1. Label-controlling electric-eye shelf:unique combination of tail and electric-eye to improve the precision for cutting off the membrane materials.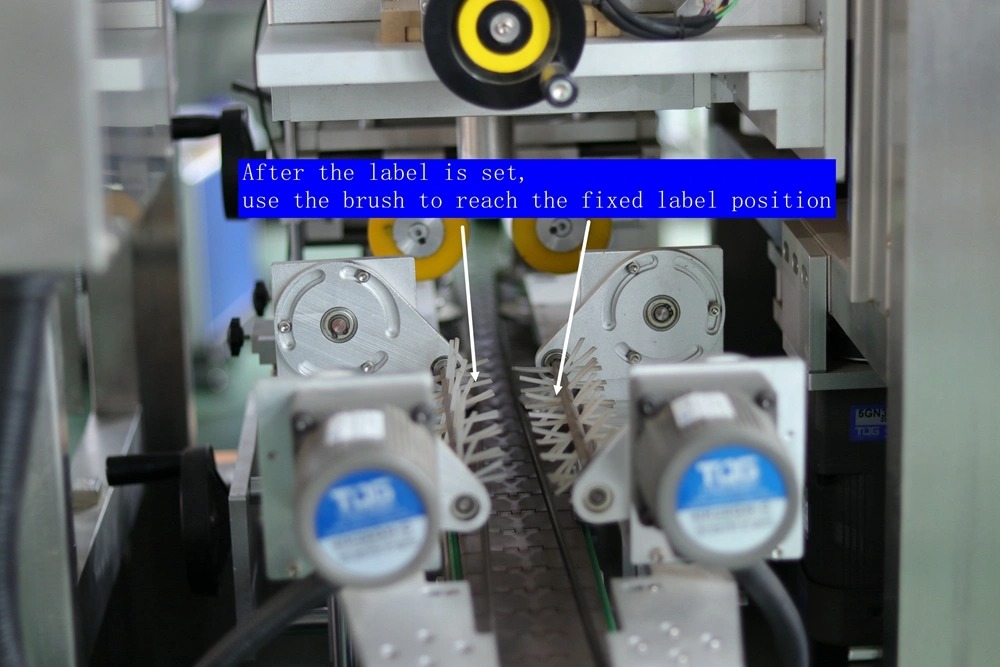 2. Adjustable cutter head:unquely cyclotron cut-off,double sided cutting edge with a long service life.
3. Single postioning center guide pillar:a more stable for label delivery.