Application
The sleeve system is a fully automatic shrink sleeve labeling system for applying and shrinking full body sleeve labels or tamper evident bands on a variety of round,square, rectangular & oval container types and shapes with and without contours.
Each Sleeve System includes a sleeve applicator, one or two shrink tunnel modules, (depending on the application),a steam generator and a stainless steel conveyor for transporting containers through the system.
The Sleeve System is offered and sold as an integrated system in order to ensure successful applications for our customers.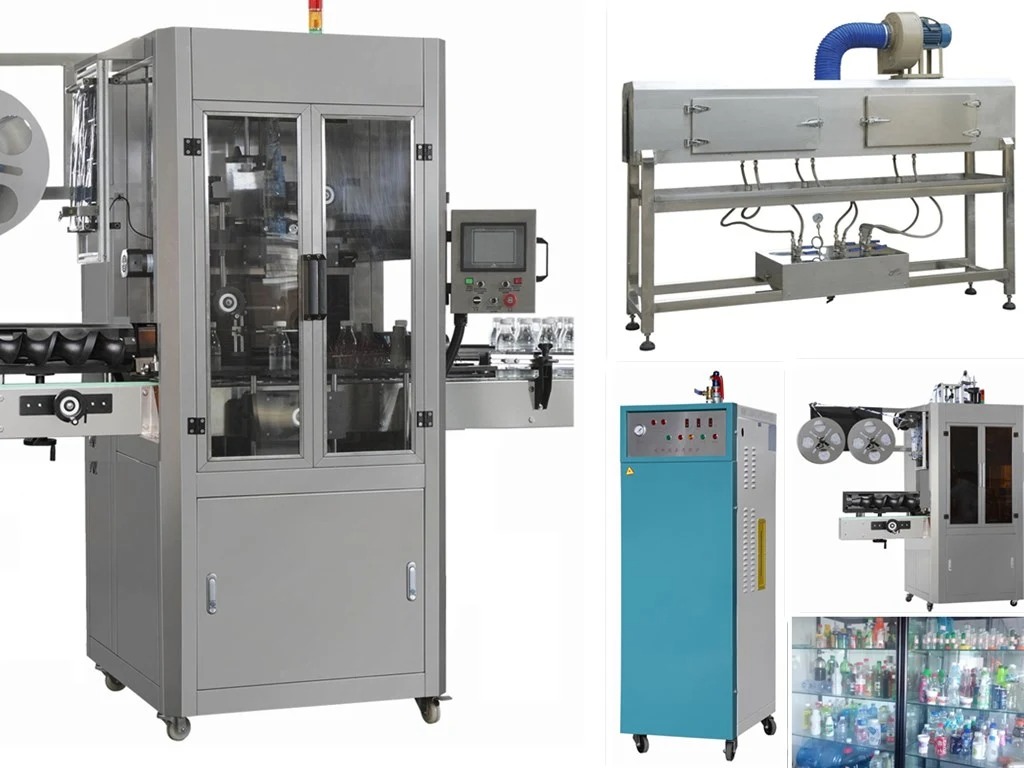 Auto sleeve labeling machine
Synchronized transmission, any change of transmission belt will be finished quickly. Compared to the type of traditional multilayer whose change and maintain need more than six hours, it's maintenance is easy and maintain is simple, so it doesn't influence production.
Unit cutter head plane design in China which apply to the container of 28mm-160mm.you never need to change or debug it. It also has unique light touch human-machine screen, that means, auto search original location as well as safety and convenience which is ahead of other congener products.
Double shrinking label feed plane, reasonable height which is convenient to fix the label; micro-computer auto figure which avoid enactment and adjustment .you only need to press it lightly, the label will detect and locate automatically. The change of label is quick and convenient. Besides, the cutting place is absolutely exact.
Label feeding equipment: driving synchronized control the supply of label, the supply ability is 90meters per minute, volume label supply plane is 500mm, the internal diameter of paper tube will be 4', 8', 10' .the configuration of label feeding is stable which enable the exact length of label and the stable ,quick supply of label.
The center pillar applies step by step shoot label structure and the speed is 150B per minute.
The newly designed cutter head use step by step motor driving which speed is high, action is exact, the cut is in order and the shrinking is beautiful. This design cooperated with the label synchronized location structure enable the precision of cut location within 1mm.
Multi-point emergency stop button enable emergency stop at the proper position along the production which guaranteed the safe production.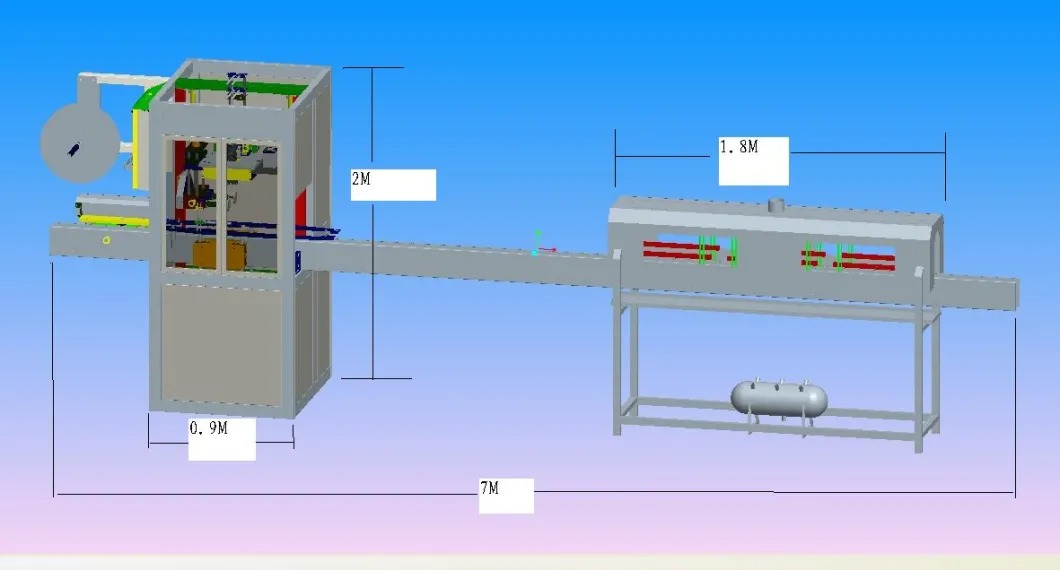 Steam Shrinking Tunnel
In the case of diffierent and irregular round bottles,square bottles and flat bottles etc, the new-style steam shrinking oven is easy to adjust and maintain.It has an even shrinking. The distribution of low-pressure steam drum and spouting way of steam are uniform and designed with seamless tube.The nozzle is divided to be adjustable three segments and the height ,position and steam output of every segment can be adjusted respectively so as to gain the perfect shrinking.The whole machine is made of stainless steel with heat preservation , which not only saves engery ,but also complies with the international safety standard .The stainless steel defrosting tray collects condense water.The whole machine adopts the water-proof design with the convenience of easy operation and low maintenance.
Features of steam generator
The water is fed into the series of wholly automatic electrical heating generator by high pressure potential vortex pump made of copper with short water-supply time and durable service. A floating ball for liquid level is fixed in the water tank to automatically control the water inlet. Working system is all automatically controlled. After connecting the water supply and power supply for 5 minutes or so, it can output the steam continuously with high working efficiency.
Main technical parameter of the equipment
| | |
| --- | --- |
| Item | Sleeve Labeling Machine |
| Capacity | 150 bpm (Based on 500ml) |
| FPY | More than 99.9% |
| Whole line productive efficiency | More than95%(Calculation of 24 hours) |
| Applicable diameter of bottle | 28mm-125mm |
| Applicable length of label | 30mm-250mm |
| Applicable thickness of label | 0.027mm-0.13mm |
| Label material | PVC,PET,PS |
| Volume label inside diameter | ≥4"(101.6mm) |
| Volume label outside diameter | ≤500mm |
| voltage | AC380V, 50HZ,3 phase |
| label sleeving machine output | 3KW |
| Steam Shrink tunnel output | 0.37KW |
| Steam generator output | 18KW |
| Steam pressure | 1-8Kg/cm2 |
| Steam air consumption | <25Kg/hour |
| Dimension of the machine | Label sleeving machine:L2000*W1100*H2000mm |
| Weight | 750 |