Introduction
This shrink sleeve labeling machine consist of auto label sleeve machine, Steam Shrinking Tunnel and Steam generator.
Main machine adopt Synchronized transmission, change of transmission belt will be quickly. Compared to the type of traditional change and maintain need more than six hours, this machine maintenance is easy and maintain is simple, so it doesn't influence production. Unique cutter head plane design apply to the container diameter of 30mm to 130mm. no need to change or debug it. also has unique screen, auto search original location as well as safety and convenience which is ahead of other congener products.
Double shrinking label feed plane, reasonable height which is convenient to fix the label; PLC auto figure which avoid enactment and adjustment .you only need to press it lightly, the label will detect and locate automatically. change of labels are quick and convenient. Besides, the cutting place is absolutely exact.
Label feeding equipment: driving synchronized control the feeding of label, the feeding ability is 90meters per minute, volume label supply plane diameter is 500mm, the internal diameter of paper tube will be 4', 8', 10' .the configuration of label feeding is stable. which enable the exact length of label and the stable ,quick supply of label.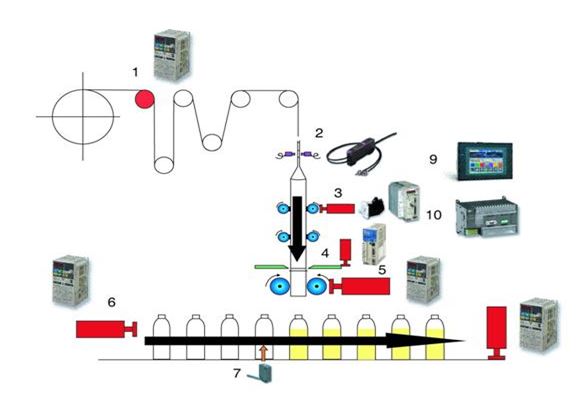 Technical parameter:
| | |
| --- | --- |
| Capacity | 80-100bpm(Calculation of standard length to 100mm) |
| FPY | ≥99.9% |
| Whole line productive efficiency | ≥95%(Calculation of 24 hours) |
| Applicable diameter of bottle | 28mm to 125mm |
| Applicable length of label | 30mm to 250mm |
| Applicable thickness of label | 0.027mm ~0.13mm |
| Label material | PVC、PET、OPS |
| Volume label inside diameter | ≥4"(101.6mm) |
| Volume label outside diameter | ≤500mm |
| voltage | AC380V, 50/60HZ, three phase |
| label sleeve machine power | 1.5KW-2KW |
| Steam Shrink tunnel power | 0.37KW |
| Steam pressure | 1-8Kg/cm2 |
| Steam air consumption | <25Kg/hour |
| Dimension of the machine | Label sleeve machine:  L2100*W850*H2000 mm |
| Weight | 500  kg |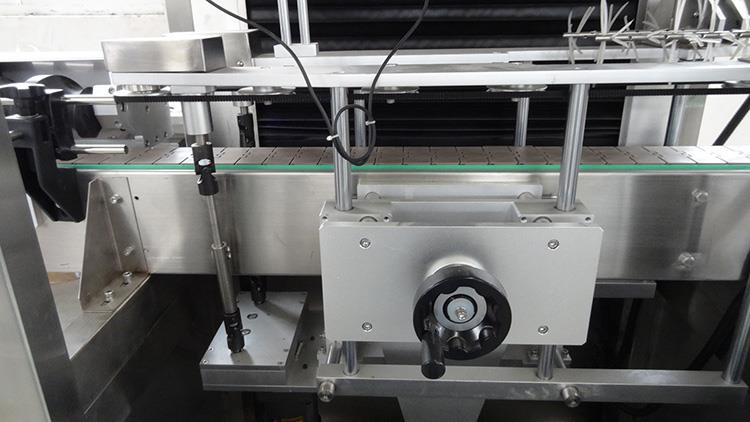 Electrical Appliance Configuration Specification:
The electrical appliance adopted by this type of trapping label machine are all imported configuration, besides, this shrink labeling machine adopts the high-velocity positioning module, imported servo motor, servo driver, servo controller and fully-automatic adjustment as well as humankind operation.
Variety Types of Casting Label:
The velocity of this shrink labeling machine reaches within 150Bottle per minute; The shrink labeling machine applies to such food & beverage industry as fruit juice, tea drink, dairy products, pure water, condiments, beer and sports drink, etc. Of all kinds of Bottle types. This shrink labeling machine not only has a highly precise position for casting label, but also can stand out the perfect shape of the bottle after shrinkage.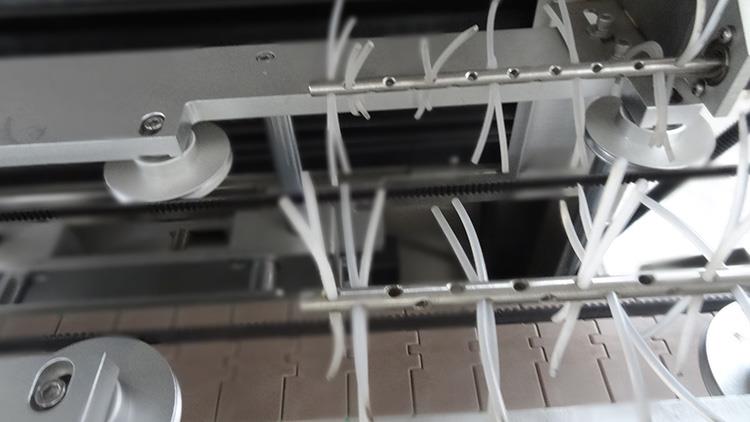 Steam shrink tunnel technical parameter
| | |
| --- | --- |
| Item | Steam shrink tunnel |
| Input Power Supply of Blower | 1PH, 220V,1.1KW |
| Input Power Supply of Steam Generator | 380V/50HZ |
| Working Pressure | <=0.1Mpa |
| Weight | 230Kg |
| Steam Consumption | 10-20Kg/h |
| Size of Oven Body | L2300*W400*H450 mm |
| Transporting Speed | 0-35m/min |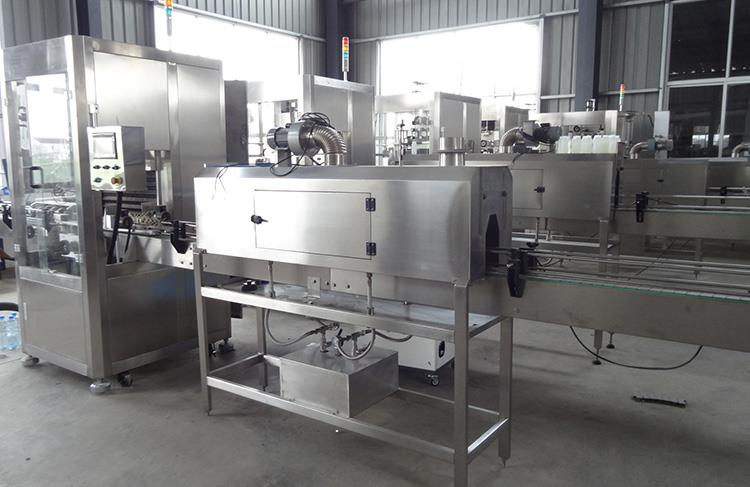 Sleeve label Technical Features and application:
1. The center pillar applies step by step shoot label structure and the speed is 170B per minute.
2. The newly designed cutter head use step by step motor driving which speed is high, action is exact, the cut is in order and the shrinking is beautiful. This design cooperated with the label synchronized location structure enable the precision of cut location within 1mm.
3. Multi-point emergency stop button enable emergency stop at the proper position along the production which guaranteed the safe production.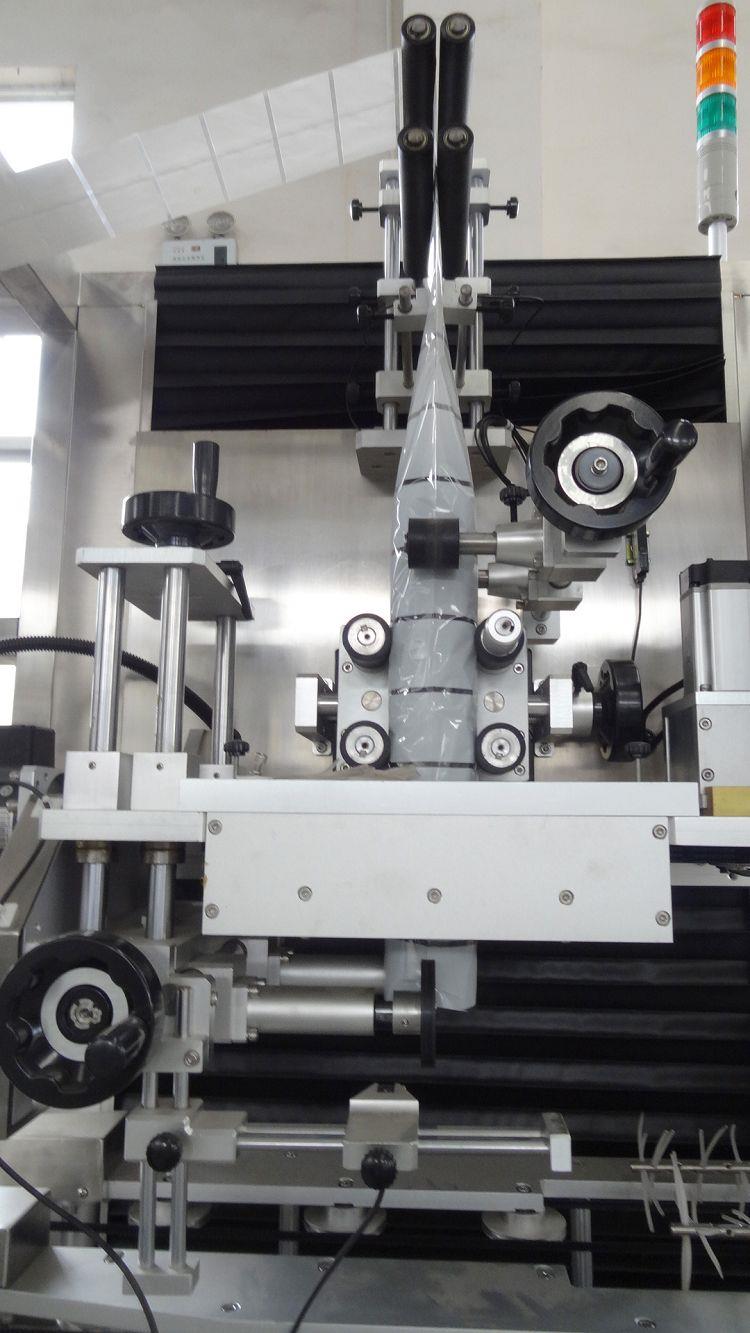 Steam shrinkage tunnel description:
New type of bottle label steam shrinkage tunnel, thermo shrinkage have increased the thermo-shrink efficiency; different and unreasonable bottle shapes such as round, square, or flat bottle etc. we can adjust and maintain convenience, shrink flatly.
Steam eject type adopt to Steam drums design type, adjustable steam diversion system, tube is smoothly and not occupy room, eject exit mouth each side divide three passage, each passage height or low, fore and after gas output volume all can adjust, up to max perfect efficiency .
Steam shrinkage tunnel features:
1. Low-pressure Steam drums adopt to no-seam steel tube, each connected tube use stainless steel tube quick connecter, easy to discharge and install.
2. Whole machine outer shells adopt stainless steel SUS304, save energy and accord with foodstuff safe criterion.
3. Bottom stainless steel water plates concentrate cool condensation water can exclude via tube connected, working circumstance don't affect, case body vision window fore and after each has two.
4. Whole machine adopt to water-proof design, made from stainless steel, easy to manipulation and maintain.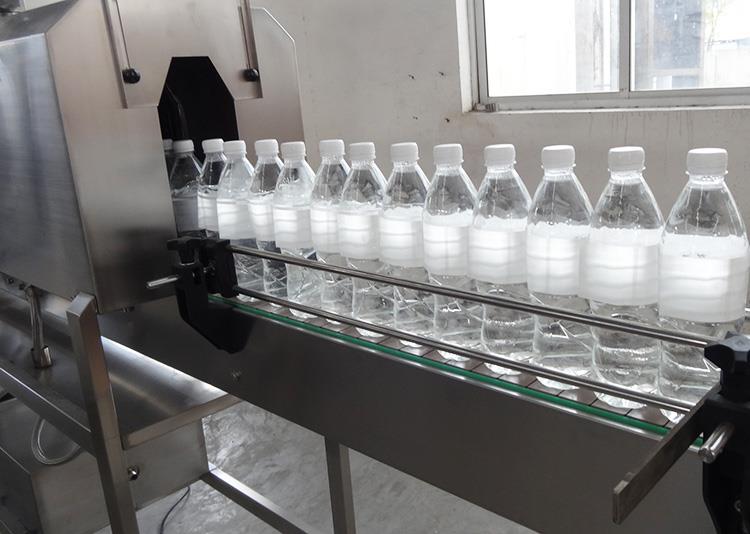 Steam generator mechanism character:
1. small electric thermo steam oven with compact structure and small cube, machine inner set auto water replenishing bump, and set auto water-level controlling, pressure controlling, can work continually.
2. water of the oven is lower than 30L, annual water volume in the oven is less, with high working pressure, high steam temperature, can solve many users high-pressure steam requirement efficiency.
3. Steam output valve not only can connect hard tube but also can connect anti-high temperature steam rubber tube flexibly and save the space effectively. whole machine occupy area is small, convenient to move and install.